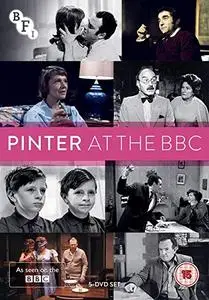 Pinter at the BBC. A Slight Ache (1967) + A Night Out (1967) [British Film Institute]
DVD Video | 0hr 59mn + 0hr 57mn | PAL 4:3 | 720x576 | 4.37 Gb
DVDRip | MKV | AVC 720x576, ~ 1.9 Mbps | 0hr 59mn + 0hr 57mn | 893 Мb + 863 Мb
English: AC3, 2 ch, 192 kbps | Subtitles: English
Genre: Drama


Director:
Christopher Morahan, Harold Pinter, Charles Jarrot and Kenneth Ives
Film Distributor:
BFI (British Film Institute)
Harold Pinter (1930-2008) was one of the most important and influential British playwrights of the last century. Whilst best-known for his work for the stage, this collection celebrates Pinter's significant contribution to television. His work for the screen shares many of the qualities of that for the stage, from a fascination with the private roots of power and an abiding preoccupation with memory, to a belief in the agency of women. Featuring 10 plays made for the BBC between 1965 and 1988, and previously unavailable on DVD, highlights include Tea Party (1965), Old Times (1975) and 1987's The Birthday Party which sees a rare example of Pinter acting in his own work. A dazzling array of British acting talent is on display, including Michael Gambon, Julie Walters, Leo McKern, Vivian Merchant, John Le Mesurier and Miranda Richardson.
A Slight Ache (1967)
https://www.imdb.com/title/tt0062280/
A Night Out (1967)
https://www.imdb.com/title/tt1030657/
Extras:
- Commentary by French film expert Prof. Ginette Vincendeau
- 4:3 Trailer (2:16)
- Director's Biography (3:16)
- Interview with assistant director Volker Schlöndorff (4:3 - 13:12)
- Introduction by Ginette Vincendeau (21:18)
- Acknowledgements


Title: PinterAtTheBBC.D2.ASlightAche.1967.ANightOut.1967.BFI.D5
Size: 4.37 Gb ( 4 584 818,00 KBytes ) - DVD-5
Enabled regions: 1, 2, 3, 4, 5, 6, 7, 8

VTS_01 :
Play Length: 00:00:00+{00:00:03}+{00:00:03}+{00:00:00}
Video: PAL 4:3 (720x576) VBR
Audio:
English (Dolby AC3, 2 ch)
Subtitles:
English

VTS_02 :
Play Length: 00:00:22
Video: PAL 4:3 (720x576) VBR
Audio:
English (Dolby AC3, 2 ch)

VTS_03 :
Play Length: 00:00:00
Video: PAL 4:3 (720x576) VBR
Audio:
English (Dolby AC3, 2 ch)
Subtitles:
English

VTS_04 :
Play Length: 00:00:00
Video: PAL 4:3 (720x576) VBR

VTS_05 :
Play Length: 00:00:00
Video: PAL 4:3 (720x576) VBR

VTS_06 :
Play Length: 00:00:20
Video: PAL 4:3 (720x576) VBR
Audio:
English (Dolby AC3, 2 ch)
Subtitles:
English

VTS_07 :
Play Length: 00:00:00+{00:00:20}+{00:00:20}+{00:00:20}+{00:00:20}+{00:00:20}+{00:00:20}+{00:00:20}+{00:00:20}+{00:00:20}+{00:00:20}+{00:00:20}+{00:00:20}+{00:00:20}+{00:00:20}+{00:00:20}+{00:00:20}+{00:00:20}+{00:00:20}+{00:00:20}+{00:00:20}+{00:00:20}+{00:00:20}+{00:00:20}+{00:00:20}+{00:00:20}+{00:00:20}+{00:00:20}+{00:00:20}+{00:00:20}+{00:00:20}+{00:00:20}+{00:00:20}+{00:00:20}+{00:00:20}+{00:00:20}+{00:00:20}+{00:00:20}+{00:00:20}+{00:00:20}+{00:00:20}+{00:00:20}+{00:00:20}+{00:00:20}+{00:00:20}+{00:00:20}+{00:00:20}+{00:00:20}+{00:00:20}+{00:00:20}+{00:00:20}+{00:00:20}+{00:00:18}
Video: PAL 4:3 (720x576) VBR
Audio:
English (Dolby AC3, 2 ch)
Subtitles:
English

VTS_08 :
Play Length: 00:00:00+{00:00:06}+{00:00:03}
Video: PAL 4:3 (720x576) VBR
Audio:
English (Dolby AC3, 2 ch)
Subtitles:
English

VTS_09 :
Play Length: 00:00:01+00:57:42+00:59:46+00:00:06+{00:00:00}+{00:57:42}+{00:00:03}+{00:00:00}+{00:57:42}+{00:00:03}+{00:00:00}+{00:57:42}+{00:00:03}+{00:00:00}+{00:57:42}+{00:00:03}
Video: PAL 4:3 (720x576) VBR
Audio:
English (Dolby AC3, 2 ch)
Subtitles:
English


Thanks to original uploader

If you like this release please visit my blog
In it you will find ALL the latest BFI releases