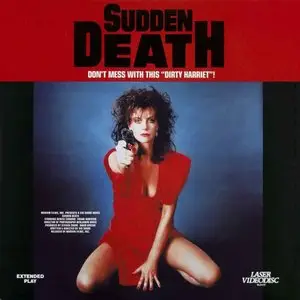 Sudden Death (1985)
LDRip | MKV | 720 x 496 | x264 @ 2384 Kbps | English AC3 2.0 @ 224 Kbps | 89 min | 1,75 Gb
Genre: Action, Thriller
Valarie is a happy, successful career woman, engaged to a charming and handsome man. She drives a great car and lives in a beautiful apartment. Then one night she hails the wrong taxi. She is brutally raped by the two car thieves who were taking a joyride. They leave her on the sidewalk to die after they're done with her. When she recovers, her fiancée abandons her, and with the police unable to help much in tracking down her attackers, Valarie buys a gun and takes to the gritty streets after dark, luring and killing street thugs who accosted her while searching for the two thugs to get her revenge. She becomes known in the press as the 'Dum-Dum Killer' because of the hollow-point bullets she pattens out and uses. At the same time, she begins dating a sympathetic police detective, named Marty, who takes an interest in her rape case, while tracking down the 'Dum-Dum Killer', and when he begins to suspect her, he is torn between upholding the law and protecting his newest love interest.
The film is full of sex and violence and reinforces what George Gerbner and his associates at the University of Pennsylvania claim about fictionalized TV and film violence leading us into a "Mean World Syndrome" perception of reality. New York City comes off looking pretty terrible and the males who inhabit it even worse. They are all thugs and sex-starved beasts who live only to drink and attack women. It's not a pretty place to be. The plot is a mirror image of the Bronson "Death Wish" films, but with a female vigilante who goes out to exact revenge on her rapist attackers. It also parallels "Sudden Impact" very strongly. Hence the title "Sudden Death." Poor acting and uninspired editing, but the film accomplishes its mission: to make us angry and retaliatory and vindictive. It is full of action and punks whom we are happy to see extinguished. Recommended to those who love vigilante movies and can suspend disbelief in many instances during this 90 minute get-even flick.
(click to enlarge)