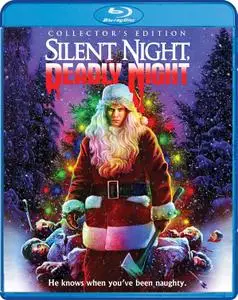 Silent Night, Deadly Night (1984) + Extra
BDRip 720p | MKV | 1280 x 720 | x264 @ 2560 Kbps | 1h 24mn | 1,86 Gb + 901 Mb
Audio: English AC3 2.0 @ 192 Kbps + 2 Commentary tracks | Subtitles: English
Genre: Horror, Thriller | Director: Charles E. Sellier Jr.
Fangoria Presents unwraps Charles E Sallier Jr.'s 1984 holiday cult horror classic SILENT NIGHT, DEADLY NIGHT, in theaters this December! SILENT NIGHT, DEADLY NIGHT tells the tale of Billy Chapmen, orphaned at five after witnessing the murder of his parents at the hands of a Santa suit-clad madman on Christmas Eve. Now eighteen and out of the brutal grip of orphanage nuns, Billy is forced to confront his greatest fear, sending him on a rampage, leaving a crimson trail in the snow behind him. Fangoria Presents, in conjunction with Screenvision, delivers this seasonal slasher essential in a stunning new HD transfer for the ultimate experience in ho-ho-horror!
(Enlargeable)

Commentaries:
1) Commentary #1 features actor Robert Brian Wilson and and producer Scott Schneid.
2) Commentary #2 features screenwriter Michael Hickey, composer Perry Botkin, Schneid, and editor Michael Spence.
Extra:
–
"Slay Bells Ringing"
(45:51) is a 2017 making-of for "Silent Night, Deadly Night," bringing together Hickey, producers Schneid and Dennis Whitehead, Spence, Botkin, and Wilson. The featurette tracks the project's progression from a one-line idea to a full- fledged screenplay, and one Hickey mentions is inspired by Stanley Kubrick's "The Shining," also reminding viewers that the film is meant to be funny (close-ups of crying babies tends to negate that argument). Schneid and Whitehead also share an interesting story about producer Ira Barmak and his intent to buy the project for himself, cutting the men out of any sweet deals. Interestingly, TriStar Pictures fully intended this project to be their defining slasher offering, hoping to make an icon out of Billy, and Wilson has plenty of anecdotes about the shoot, detailing his love of stunts and the temperaments of co-stars.