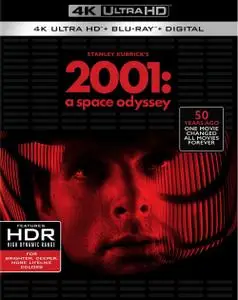 2001: A Space Odyssey (1968) + Extras
4K to BDRip 1080p | MKV | 1920 x 1080 | x264 @ 14,0 Mbps | 2h 28mn | 19,45 Gb + 1,65 Gb
Audio: English DTS HD-MA 5.1 @ 2197/2170 Kbps (Remixed/Original) + Commentary track
Subs: English, Français, Deutsch, Italiano, Português, Español, Chinese (中文), Japanese (日本語), Hrvatski, Čeština, Dansk, Nederlands, Hebrew (עברית), Magyar, Íslenska, Korean (한국어), Ελληνικά, Polski, Română, Русский, Suomi, Norsk, Svenska, Thai (ภาษาไทย)
Genre: Adventure, Sci-Fi, Mystery | Director: Stanley Kubrick
An imposing black structure provides a connection between the past and the future in this enigmatic adaptation of a short story by revered sci-fi author Arthur C. Clarke. When Dr. Dave Bowman (Keir Dullea) and other astronauts are sent on a mysterious mission, their ship's computer system, HAL, begins to display increasingly strange behavior, leading up to a tense showdown between man and machine that results in a mind-bending trek through space and time.
IMDB
- Top Rated Movies #89 | Won 1 Oscar + Another 15 wins
(Enlargeable)

Audio Commentary
by Keir Dullea and Gary Lockwood
– 11/27/1966 Interview with Stanley Kubrick (1:16:31) is an audio interview conducted by Jeremy Bernstein that plays to a still image of the Starchild gazing on his new toy (Earth).
– 2001: The Making of a Myth (43:08) is an interesting retrospective with a number of talking heads discussing the impact of the film.
– Standing on the Shoulders of Kubrick: The Legacy of 2001 (21:25) features folks like Steven Spielberg and George Lucas discussing what the film has meant to them and the art of cinema generally.
– Vision of a Future Passed: The Prophecy of 2001 (21:31) looks at some of the things that seemed fanciful in 1968 which don't seem quite as much anymore.
– 2001: A Space Odyssey: A Look Behind the Future (23:11) is a longer form archival piece that includes production data and interviews and is kind of charmingly old school.
– What Is Out There? (20:42) is an interesting piece which seems to suggest that (if I may conflate famous quotes by both Fox Mulder and Colonel Nathan R. Jessup) we can't handle the truth out there.
– 2001: FX and Conceptual Artwork (9:33) features some interesting comments from Douglas Trumbull.
– Look: Stanley Kubrick! (3:15) is a brief piece focusing on Kubrick's work as a magazine photographer.
Notes:
2001: A Space Odyssey
features two DTS-HD Master Audio 5.1 tracks, one listed as restored and remixed (which the accompanying press sheet identifies as having been "completed in 1999 (for the previous DVD and Blu-ray releases)" and a new 5.1 repurposing of the original theatrical 6 track audio.