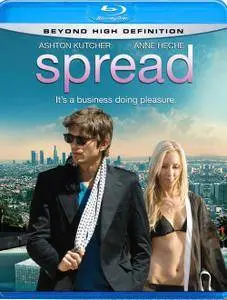 Spread (2009)
BDRip 720p | MKV | 1280 x 720 | x264 @ 2560 Kbps | 1h 37mn | 2,04 Gb
Audio: English AC3 5.1 @ 448 Kbps | Subtitles: English (embedded)
Genre: Comedy, Drama, Romance | Director: David Mackenzie
In Los Angeles, Nikki is homeless, car-less and closing in on 30, but he's amoral, good-looking, and adept in the sack, moving from one wealthy woman of 35 or 40 to another, a kept boy-toy. His newest gig, with Samantha, an attorney whose house overlooks L.A., is sweet, although it's unclear how long she'll put up with him. Then Nikki meets Heather, a waitress. Is the player being played, or might this be love? What will Nikki discover?
Spread is an unusual little film. I say 'little', as it's essentially a low budget character-driven drama that is some how being commercially packaged as a rom-com. A quick glance at the credits reveals that this isn't your average Kutcher vehicle: it's directed by Scotland's David Mackenzie of "Young Adam" and "Hallam Foe" fame.

Make no mistake, the Kutcher we see at the start of the film is very familiar: arrogant, uptight and utterly beautiful. But as the run-time flies past, we somehow warm to his character even though he's getting more sex than most of us will get in a lifetime. And here's the good news: Kutcher's performance is fairly astounding. He manages to reveal the humanity in his deeply flawed character with notable subtlety and a distinct lack of cliché. Kutcher's (many) sexual relationships portrayed in the film are brutally realistic: the modern and perhaps unromantic realities of casual sex are not dressed-up in any cheap Hollywood moralising. This is also evident in the overall tone of the film: there are many moments that could have descended into schmaltz, but a sharp edge it maintained on just about every line of dialogue.
(Enlargeable)