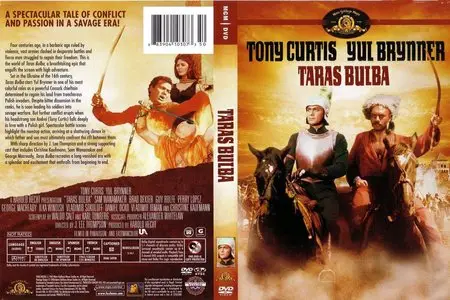 Taras Bulba (1962)
DVD9 (VIDEO_TS) | NTSC 16:9 (720x480) | 02:03:55 | 7,70 Gb
Audio: English; French; Spanish - AC3 2.0 @ 192 Kbps | Subs: English, French, Spanish
Genre: Action, Adventure, Drama | Nominated for Oscar | Yugoslavia, USA
The spectacular hordes of Cossack horsemen flying across the steppes to do battle with first one enemy and then another are the highlights of this otherwise thinly scripted costume drama set in the 16th century in the Ukraine. After the Cossack leader Taras Bulba (Yul Brynner) makes a pact with the Poles to join forces against the Turks and drive them from the European steppes, victory brings betrayal as the Poles then turn on their ally and force the Cossacks into the hills. From there, Taras Bulba decides that one of his sons, Andrei (Tony Curtis), will be sent to Polish schools to better learn the nature of their enemy. While away from home and hearth, the adult Andrei falls in love with a Polish noblewoman, Natalia (Christine Kaufmann, who would become the second Mrs. Curtis). As time progresses, the tensions between father and son, loyalty and love, ethnic identity and assimilation steadily increase until they end in tragedy. Taras Bulba was nominated for a 1963 Academy Award for "Best Music", scored by Franz Waxman.
IMDB
DVDBeaver
Wikipedia
Among the most spectacular and problematic of large-scale Hollywood epics, Taras Bulba (1962) originated as a dream project for actor Yul Brynner, who was at the height of his popularity after the success of The King and I (1956) and The Magnificent Seven (1960). The classic novel by one of Russia's leading writers, Nikolai Gogol, fuses a story of star-crossed romance and familial conflict with epic battle sequences, a perfect formula for big budget spectacle. However, the film's rocky production history and curious casting choices resulted in an idiosyncratic, frustrating, yet strangely impressive final result.




Brynner stars as the title warlord, a Cossack whose comrades are killed by treacherous Poles in the sixteenth-century Ukraine following a battle against the Turks. Taras breeds his young son, Andrei (Tony Curtis), to infiltrate the Poles and avenge his people, but the plan is complicated when Andrei falls in love with a Polish princess, Natalia (Christine Kaufmann of Town Without Pity, 1961), which sets off a chain of battles, shootings, machismo contests, boozing, brawling, and an attempted burning at the stake.




The fact that Polish Jews were the victims of Bulba's attacks proved to be an early sticking point when Brynner recruited popular historical novelist Howard Fast to write the screenplay. When Fast refused to soften the implications of the borderline ethnic cleansing involved in the story, blacklisted writer Waldo Salt and Karl Tunberg were brought in to write the final script, with Harold Hecht (Sweet Smell of Success, 1957) producing. J. Lee Thompson, a skilled hand at action and suspense sequences after his polished work on The Guns of Navarone (1961) and the underrated Tiger Bay (1959), was brought in to helm the production, with Brynner throwing himself full force into the role. As his son Rock recalls in his biography of his father (Yul: The Man Who Would Be King), the actor "worked hard to create a rich, robust character for Taras, whom he described as a mythical figure…Yul wanted to track this character over the decades, to show how his idealistic nationalism exceeded his paternal instinct. He even proposed that the movie be filmed strictly in sequence-that way, when he was playing Taras as an old man, he could have the caps taken off his front teeth. There was never a film Yul cared about more, not even The Brothers Karamazov [1958]."




Unfortunately the finished result would be compromised by a number of factors, particularly the various editors who ignored many of the rhythms established by the performances and story structure. However, for Brynner the biggest blow was the casting of Curtis (stepping in after Burt Lancaster left the production), who took top billing with Brynner accepting additional money to slip down to second-billed status despite playing the title role. Furthermore, Curtis' marriage to Janet Leigh dissolved while he became involved with co-star Kaufmann (with whom he shared some remarkably steamy on-screen love scenes), adding further distress to an already unstable production.




Leigh's on-set visit to the filming in Argentina proved disastrous, as Curtis describes in Tony Curtis: The Autobiography: "It turned out not to be such a good idea. Janet got food poisoning, I got a throat infection, and Jamie got hurt in a fall. So they went home early… I started seeing Christine during Taras Bulba, but she had nothing to do with the bust-up of my marriage. It coincided, and there was a lot of heat that Christine had caused it, but that wasn't true. My relationship with Janet had become untenable long before that."




According to Rock Brynner, "the end result [of Taras Bulba] was so far from his original dream as to be unrecognizable, and for several nights thereafter he hardly slept. There, and then, once and for all, something inside him broke." The Curtis/Leigh split (which happened as she was filming Bye Bye Birdie, 1963) became a tabloid-worthy story which quickly overshadowed Curtis' star vehicle, and Brynner felt that one of his best performances would never truly see the light of day. However, Curtis recalled the production more kindly, calling it "an unforgettable experience, and Yul Brynner, a charming and funny man, was to me the most fascinating of those players. He had a fabulous pomposity about him. An aloofness. A sense of grandeur about himself and everything he did."




Whatever its shortcomings in the editing or dialogue departments (one choice line: "There's only one way to keep faith with a Pole. Put your faith in your sword and your sword in the Pole"), Taras Bulba is certainly never dull and benefits from both its fiery Brynner performance and Thompson's steady action staging, complete with a reputed 10,000 Argentinean extras, blatantly non-ASPCA-approved horse stunts, and some of the most extreme violence seen on motion picture screens at the time. The film also features a particularly robust music score by one of Hollywood's finest golden age composers, Franz Waxman (Rebecca [1940], Sunset Blvd. [1950]), who skillfully integrates traditional Russian classical sounds into his furious orchestral arrangements. However, perhaps the film's greatest and most enduring contribution to worldwide culture is its unforgettable plague sequence, which inspired the "Bring out your dead!" sequence in Monty Python and the Holy Grail (1975).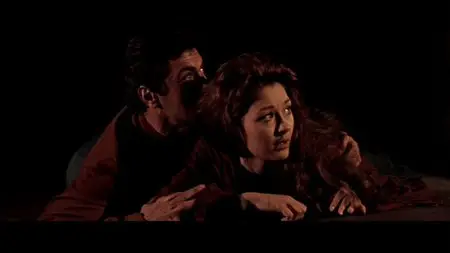 Taras Bulba may deviate from the source material, and it may be Romeo and Juliet-esque, but it's more of an adventure movie than a romance. Yeah, there is romance, but guys can watch this and not feel emasculated. Yul Brynner is awesome and chews up the scenery good as the lead character- a proud and die-hard Cossack who gets into it with his oldest son (a slightly out of place Tony Curtis) when he falls in love with a Polish woman- an enemy of the Cossack's. The direction is pretty sharp and never slow, and the music is just terrific- it's an epic without an excessive running time. The costumes are cool, and the battle scenes (for the time AND in general) are pretty cool and well done. The films is a little flawed, but still worth checking out.


cosmo313, Rotten Tomatoes
Cover
and
DVD Scan
you can find
here
.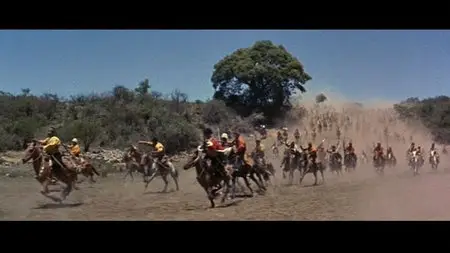 Download:










Interchangable links.
No More Mirrors.