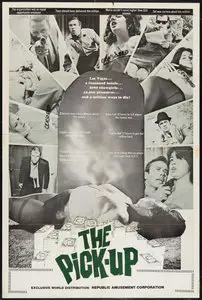 The Pick-Up (1968)
DVDRip | AVI | 640x496 | XviD @ Kbps | 90 min | 862 Mb
Audio: English MP3 @ 116 Kbps | Subs: Dansk hardcoded
Genre: Crime, Thriller, Sexploitation
Director:
Lee Frost (as R.L. Frost)
Writers:
Lee Frost (original story) (as R.L. Frost), Wes Bishop (screenplay) (as Wesdon Bishop)
Stars:
Wes Bishop, Stefan Zema, Lois Ursone
Two mob money couriers, Frankie and Tony, have their latest package of $1 million stolen by two con women, Dana and Marcia, in which the men must find the women to recover the money before they become marked men.
"The Pick-Up" was something of a vanity project for sexploitation maven Friedman. In fact, he and many of his cronies (e.g., Bob Cresse) play significant cameo roles in the film – the best bit of business coming when Friedman himself illustrates how showgirls are cast. A lot more effort than usual was expended on creating a professional, stylish narrative, with the two leads being well-drawn and winningly acted, a twisty story with a few zingers in the dialogue, and fine Cassavettes-like direction from nudie/roughie vet Frost (who went on to more "legitimate" titles later). Although, in comparison to other efforts in the genre, the sex and exploitation elements take a back seat here, the realistic context gives them a more intense edge than usual – it'll remind you of all the times you spontaneously ended up in the sack with some sexy dame and lived to regret it. One particularly electrifying (I mean that literally) scene of torture is right out of Michael and Roberta Findlay's playbook. This 60s rarity is only available in a print with Danish subtitles, and is a perfect follow-up to the same team's equally astounding "The Defilers", which was arguably the first authentic title in the "roughie" genre. Unending kudos to Something Weird Video for its persistence in digging this one up.
(click to enlarge)

More in My Blog