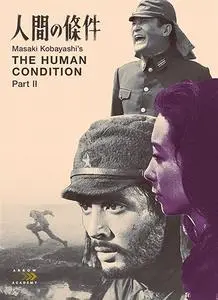 The Human Condition II: Road to Eternity (1959)
BRRip 720p | 2h 58mn | 1280x534 | MKV AVC@2240Kbps | AC3@448Kbps 1CH | 3.34 GiB
BRRip 1080p | 2h 58mn | 1918x800 | MKV AVC@4260Kbps | AC3@448Kbps 1CH | 5.85 GiB
Language: Japanese (日本語) | Genre: Drama, History, War | Subtitles: English
Kaji is sent to the Japanese army labeled Red and is mistreated by the vets. Along his assignment, Kaji witnesses cruelties in the army; he revolts against the abusive treatment spent to the recruit Obara that commits suicide; he also sees his friend Shinjô Ittôhei defecting to the Russian border; and he ends in the front to fight a lost battle against the Russian tanks division.
– AKA: Ningen no jôken (original title)
About The Human Condition Trilogy:
The Human Condition (人間の條件, Ningen no jōken) is a Japanese epic film trilogy made between 1959 and 1961, based on the six-volume novel published from 1956 to 1958 by Junpei Gomikawa. It was directed by Masaki Kobayashi and stars Tatsuya Nakadai. The trilogy follows the life of Kaji, a Japanese pacifist and socialist, as he tries to survive in the totalitarian and oppressive world of World War II-era Japan. Altogether, as a single film it is 9 hours, 39 minutes long, not including intermissions, making it one of the longest narrative films ever made. The movie's negative portrayal of the United States' role in World War II prompted diplomatic protest, after which the film's tone was softened.
imdb iNFO
Screenshots
BRRip 720p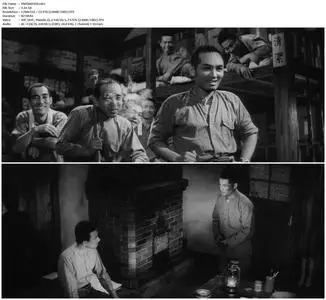 BRRip 1080p