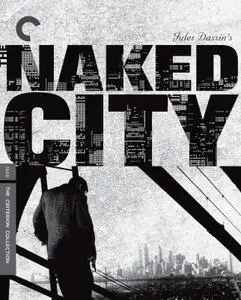 The Naked City (1948) [Criterion Collection, Spine #380]
Blu-Ray | BDMV | AVC, 1920x1080, ~36.2 Mbps | 1hr 38mn | 44,6 GB
English: LPCM Audio, 1 ch, 1152 kbps; English (Commentary): AC3, 1 ch, 192 kbps
Subtitles: English
Genre: Crime, Drama, Film-Noir


Director:
Jules Dassin
Writer:
Albert Maltz (screenplay), Malvin Wald (screenplay)
Stars:
Barry Fitzgerald, Howard Duff, Dorothy Hart
"There are eight million stories in the Naked City," as the narrator immortally states at the close of this breathtakingly vivid film—and this is one of them. Master noir craftsman Jules Dassin and newspaperman-cum-producer Mark Hellinger's dazzling police procedural, The Naked City, was shot entirely on location in New York. Influenced as much by Italian neorealism as it is by American crime fiction, this double Academy Award winner remains a benchmark for naturalism in noir, living and breathing in the promises and perils of the Big Apple, from its lowest depths to its highest skyscrapers.
Extras:
- On the Blu-ray: New 4K digital restoration by TLEFilms FIlm Restoration & Preservation Services, with uncompressed monaural soundtrack
- On the DVD: Restored high-definition digital transfer
- Audio commentary from 1996 featuring screenwriter Malvin Wald
- Interview from 2006 with film scholar Dana Polan
- Interview from 2006 with author James Sanders (Celluloid Skyline) on the film's New York locations
- Footage of director Jules Dassin from a 2004 appearance at the Los Angeles County Museum of Art
- Stills gallery
- English subtitles for the deaf and hard of hearing

                                                                                                                Total   Video                                             
Title                                                           Codec   Length  Movie Size      Disc Size       Bitrate Bitrate Main Audio Track                          Secondary Audio Track
-----                                                           ------  ------- --------------  --------------  ------- ------- ------------------                        ---------------------
00001.MPLS                                                      AVC     1:38:44 30 047 170 560  47 904 298 368  40,57   36,17   LPCM 1.0 1152Kbps (48kHz/24-bit)          DD AC3 1.0 192Kbps



DISC INFO:

Disc Title:     TheNakedCity.1948.Cr.Br
Disc Size:      47 904 298 368 bytes
Protection:     AACS
BD-Java:        Yes
BDInfo:         0.5.8

PLAYLIST REPORT:

Name:                   00001.MPLS
Length:                 1:38:44.585 (h:m:s.ms)
Size:                   30 047 170 560 bytes
Total Bitrate:          40,57 Mbps

VIDEO:

Codec                   Bitrate             Description     
-----                   -------             -----------     
MPEG-4 AVC Video        36165 kbps          1080p / 23,976 fps / 16:9 / High Profile 4.1

AUDIO:

Codec                           Language        Bitrate         Description     
-----                           --------        -------         -----------     
LPCM Audio                      English         1152 kbps       1.0 / 48 kHz / 1152 kbps / 24-bit
Dolby Digital Audio             English         192 kbps        1.0 / 48 kHz / 192 kbps

SUBTITLES:

Codec                           Language        Bitrate         Description     
-----                           --------        -------         -----------     
Presentation Graphics           English         60,130 kbps                     

FILES:

Name            Time In         Length          Size            Total Bitrate   
----            -------         ------          ----            -------------   
00274.M2TS      0:00:00.000     1:38:44.585     30 047 170 560  40 573          

CHAPTERS:

Number          Time In         Length          Avg Video Rate  Max 1-Sec Rate  Max 1-Sec Time  Max 5-Sec Rate  Max 5-Sec Time  Max 10Sec Rate  Max 10Sec Time  Avg Frame Size  Max Frame Size  Max Frame Time  
------          -------         ------          --------------  --------------  --------------  --------------  --------------  --------------  --------------  --------------  --------------  --------------  
1               0:00:00.000     0:03:19.991     35 817 kbps     49 554 kbps     00:00:11.261    40 113 kbps     00:00:07.257    38 383 kbps     00:00:02.252    186 695 bytes   640 646 bytes   00:00:00.000    
2               0:03:19.991     0:03:13.693     34 573 kbps     41 937 kbps     00:04:01.908    37 706 kbps     00:03:57.904    37 192 kbps     00:03:52.899    180 249 bytes   640 646 bytes   00:03:31.336    
3               0:06:33.684     0:02:23.059     36 320 kbps     38 118 kbps     00:08:20.500    36 822 kbps     00:08:16.496    36 666 kbps     00:08:11.491    189 357 bytes   330 721 bytes   00:07:40.960    
4               0:08:56.744     0:07:28.197     36 380 kbps     38 225 kbps     00:11:05.456    36 808 kbps     00:16:17.101    36 642 kbps     00:16:12.096    189 670 bytes   291 148 bytes   00:10:49.940    
5               0:16:24.942     0:04:37.986     36 474 kbps     37 288 kbps     00:17:14.533    36 666 kbps     00:19:25.330    36 603 kbps     00:19:24.580    190 157 bytes   287 700 bytes   00:18:06.668    
6               0:21:02.928     0:04:18.591     36 364 kbps     37 455 kbps     00:21:20.904    36 693 kbps     00:21:08.100    36 571 kbps     00:21:03.095    189 587 bytes   290 467 bytes   00:21:25.075    
7               0:25:21.520     0:06:12.997     36 352 kbps     37 212 kbps     00:29:17.464    36 671 kbps     00:29:31.936    36 588 kbps     00:29:28.767    189 524 bytes   260 441 bytes   00:26:37.512    
8               0:31:34.517     0:04:32.313     36 482 kbps     37 445 kbps     00:32:33.618    36 671 kbps     00:32:03.671    36 605 kbps     00:32:33.576    190 200 bytes   261 723 bytes   00:35:28.793    
9               0:36:06.831     0:03:28.374     36 485 kbps     37 442 kbps     00:37:46.681    36 691 kbps     00:36:51.834    36 602 kbps     00:37:37.797    190 216 bytes   306 582 bytes   00:36:32.565    
10              0:39:35.206     0:04:43.992     35 645 kbps     38 349 kbps     00:44:17.946    36 639 kbps     00:39:59.939    36 593 kbps     00:39:54.809    185 839 bytes   266 889 bytes   00:44:18.489    
11              0:44:19.198     0:04:29.477     36 362 kbps     37 894 kbps     00:46:39.755    36 716 kbps     00:46:35.751    36 640 kbps     00:47:48.490    189 577 bytes   640 646 bytes   00:44:19.490    
12              0:48:48.675     0:02:20.974     36 413 kbps     37 057 kbps     00:50:48.211    36 641 kbps     00:49:47.693    36 572 kbps     00:49:59.997    189 840 bytes   255 645 bytes   00:49:54.574    
13              0:51:09.649     0:03:38.885     36 381 kbps     37 424 kbps     00:51:32.589    36 699 kbps     00:54:04.366    36 601 kbps     00:54:02.155    189 672 bytes   266 401 bytes   00:54:46.950    
14              0:54:48.535     0:07:52.138     35 890 kbps     40 754 kbps     01:02:39.547    36 646 kbps     01:00:18.823    36 584 kbps     00:57:46.880    187 115 bytes   640 646 bytes   00:56:51.574    
15              1:02:40.673     0:04:26.182     35 626 kbps     42 031 kbps     01:06:00.748    36 695 kbps     01:05:05.318    36 617 kbps     01:05:00.396    185 739 bytes   640 646 bytes   01:06:01.707    
16              1:07:06.856     0:04:03.451     36 310 kbps     37 399 kbps     01:09:06.142    36 679 kbps     01:07:19.452    36 627 kbps     01:09:37.590    189 304 bytes   300 646 bytes   01:10:58.629    
17              1:11:10.307     0:02:58.428     36 458 kbps     37 360 kbps     01:11:52.308    36 645 kbps     01:11:40.170    36 559 kbps     01:11:43.382    190 074 bytes   266 968 bytes   01:14:08.652    
18              1:14:08.735     0:01:39.432     36 217 kbps     37 343 kbps     01:14:20.914    36 649 kbps     01:14:14.199    36 535 kbps     01:14:09.111    188 817 bytes   268 318 bytes   01:14:09.653    
19              1:15:48.168     0:05:58.733     36 378 kbps     37 560 kbps     01:21:00.272    36 657 kbps     01:16:24.454    36 594 kbps     01:16:24.663    189 659 bytes   272 168 bytes   01:16:48.395    
20              1:21:46.902     0:03:13.818     36 405 kbps     37 663 kbps     01:22:18.391    36 634 kbps     01:23:41.808    36 551 kbps     01:23:52.027    189 799 bytes   260 532 bytes   01:22:16.514    
21              1:25:00.720     0:04:59.215     36 108 kbps     38 274 kbps     01:27:48.721    36 739 kbps     01:27:31.621    36 597 kbps     01:27:31.621    188 249 bytes   335 512 bytes   01:27:25.990    
22              1:29:59.936     0:05:15.940     36 301 kbps     38 218 kbps     01:33:00.908    36 750 kbps     01:32:34.298    36 613 kbps     01:32:02.683    189 258 bytes   342 572 bytes   01:33:04.912    
23              1:35:15.876     0:03:28.708     35 893 kbps     58 766 kbps     01:36:20.024    41 490 kbps     01:37:39.103    39 070 kbps     01:37:34.098    187 207 bytes   640 646 bytes   01:36:20.775    

STREAM DIAGNOSTICS:

File            PID             Type            Codec           Language                Seconds                 Bitrate                 Bytes           Packets         
----            ---             ----            -----           --------                --------------          --------------    			  		  		  	 			   		  	   		  		  		      	 			   		   	  		 	    		 	    	 			   		  		  		   				       -------------   -----           
00274.M2TS      4113 (0x1011)   0x1B            AVC                                     5924,460                36 166                  26 782 874 716  145 640 529     
00274.M2TS      4352 (0x1100)   0x80            LPCM            eng (English)           5924,460                2 310                   1 711 008 596   9 479 272       
00274.M2TS      4353 (0x1101)   0x81            AC3             eng (English)           5924,460                192                     142 189 056     925 710         
00274.M2TS      4608 (0x1200)   0x90            PGS             eng (English)           5924,460                60                      44 530 800      251 696         


All thanks to the original uploader