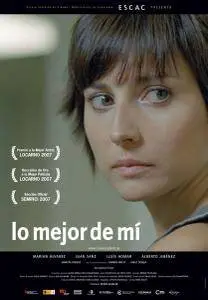 Lo Mejor de Mí / The Best of Me (2007)
Spanish | DVDRip | AVI | 720x384 | XviD @ 1373 kb/s | 855 MB
Audio: MP3 @ 128 kb/s | 2 channels | 01:18:56 minutes | Subs: English, French (idx/sub files)
Genre: Drama
When Raquel was a little girl she could not understand why everyone talked constantly about love on the radio, on TV, in Saturday afternoon films and specially in songs. She always wondered what would happen if she did not find anyone who would love her.
When Raquel moves in with Tomas, she will have to ask herself what she would be willing to do for love. She will discover how beautiful, and at the same how difficult, it is to truly love someone.