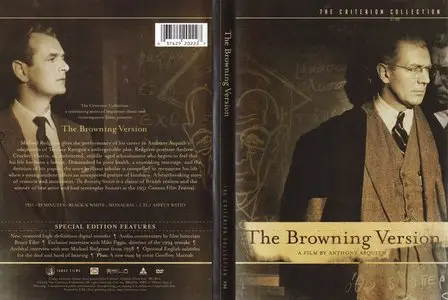 The Browning Version (1951)
DVD9 | ISO+MDS | NTSC 4:3 | Cover+Booklet | 01:30:04 | 7,43 Gb
Audio: English AC3 1.0 @ 192 Kbps | Subtitles: English SDH
Genre: Drama | The Criterion Collection #294
Director:
Anthony Asquith
Stars:
Michael Redgrave, Jean Kent, Nigel Patrick
Michael Redgrave gives the performance of his career in Anthony Asquith's adaptation of Terence Rattigan's unforgettable play. Redgrave portrays Andrew Crocker-Harris, an embittered, middle-aged schoolmaster who begins to feel that his life has been a failure. Diminished by poor health, a crumbling marriage, and the derision of his pupils, the once brilliant scholar is compelled to reexamine his life when a young student offers an unexpected gesture of kindness. A heartbreaking story of remorse and atonement, The Browning Version is a classic of British realism and the winner of best actor and best screenplay honors at the 1951 Cannes Film Festival.
The Browning Version is an emotionally wrenching exploration of a sad and defeated failure, but which ultimately (and surprisingly) becomes uplifting through the catharsis it evokes. Its stage origins are transparent; indeed, director Anthony Asquith almost goes out of his way to emphasize those origins, and with good reason. This is the story of a stuffy, closed-off, empty man whose classroom is a claustrophobic trap for his students; Asquith knows that by opening up the film as little as possible, he can drive home the sterility and artifice of the man and the trapped feeling he inspires in others. But Asquith doesn't allow the film itself to become stodgy; Desmond Dickinson's clever cinematography makes good use of the closed-in locations, finding variety and character without distracting from the claustrophobia. Asquith's attention to the text and the actors also pays off with sterling performances from all involved, but with a truly startling and riveting turn from Michael Redgrave in the lead. Indeed, Redgrave virtually is the film; his work here is nothing short of sensational, grabbing the viewer with a quiet intensity that is all the more remarkable considering that the character's deep, inner passion is buried so far deep inside him. There are layers upon layers upon layers in Redgrave's Crocker-Harris, one of the richest performances put upon the screen. There is so much going on with Redgrave that even the simplest of scenes has shades of hidden meaning. Redgrave aside, Browning is an excellent film; with Redgrave, it's an extraordinary one.


Craig Butler, Rovi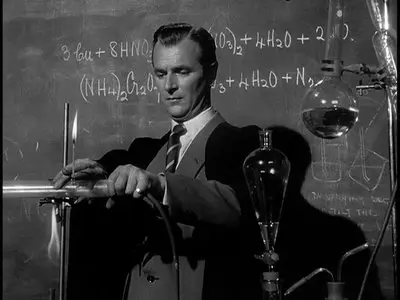 Anthony Asquith's The Browning Version was a Terence Rattigan play scripted for the screen by Rattigan. The leading role of the schoolmaster was played by Michael Redgrave, who along with Rattigan won an award at the Cannes Film Festival for his involvement in the film.

The story is about Andrew Crocker-Harris, he's been teaching at a public school for eighteen years, and is forced to retire prematurely owing to ill-health. Lack of success with his pupils has blighted his youthful ambition and promise and, with his embittered wife Millie, he faces a future of poverty and disappointment. Millie's desire for her own particular brand of love, emotional and physical, is as great as Andrew's desire for the fulfilment of his own platonic ideal.




The tragedy is that neither can satisfy the other's needs. Millie has been seeking consolation in an affair with Hunter, the science master, who is about to discard her. Andrew finds his protective armour of indifference and lovelessness pierced by the action of a small boy, Taplow, who gives him a second-hand copy of Browning's translation of The Agamemnon of Aeschylus, his maser's favourite play. The violent outburst of emotion which greets this little gesture of goodwill, and Millie's spiteful attempt to destroy its value in Andrew's eyes -pretending the gift was only a piece of flattery calculated to evade a punishment -brings the marriage to a crisis. In the last few minutes before he leaves, Andrew makes an unexpected gesture of defiance towards the Headmaster who has constantly humiliated him, and finds in the applause that greets his frank apology for his failings to the assembled school, courage to face a new life. He rejects Millie, who has by this time also been cast off by her lover.


Excerpt 'Puffin Asquith' by R.J. Minney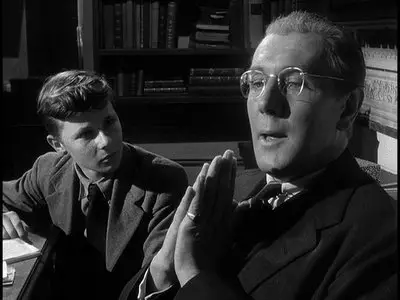 With a screenplay by the author of the play on which it is based (Terence Rattigan), "The Browning Version", although it records the manners and morals of an age and social milieu that have now vanished, remains a powerful and deeply moving film, its essential insights intact, and of continued relevance to our own time.

Arthur Crocker-Harris (Michael Redgrave) is a master at an English public school. Once a brilliant young classicist and a promising poet, he has turned into a desiccated, unfeeling and spiteful pedant, despised by his colleagues and feared by his pupils. Ill-health has prompted his early retirement, but it is apparent that his departure will go unmourned, in contrast to that of his attractive and personable young wife (Jean Kent), who is well-liked by all.




The genius of this remarkable film consists in the effortless skill with which it inverts the viewer's initial perceptions. Dismissed as outdated and irrelevant after the Angry Young Men of the mid 50s rendered his middle-class scenarios unfashionable, Rattigan was a master technician of drama, and his dialogue and pacing are faultless. Michael Redgrave was born to play the role of Crocker-Harris, to which he brings a restraint and control that render his performance all the more affecting. Asquith shows remarkable judgment in refusing to manipulate the viewer's emotions with a schmaltzy soundtrack (except for a burst of Beethoven at the end, there is no music). In the event this is unnecessary. It is a rare film that moves me to tears, but "The Browning Version" wins this distinction. Do not waste your time on the 1994 re-make.


IMDB Reviewer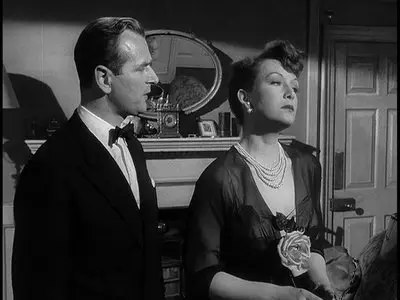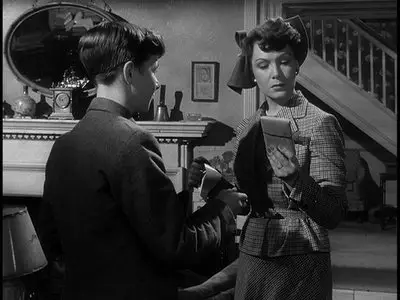 Special Features:
- New, restored high-definition digital transfer
- Audio commentary by film historian Bruce Eder
- New video interview with Mike Figgis, director of the 1994 remake
- Archival interview with Michael Redgrave from 1958
- A new essay by film critic Geoffrey Macnab
- Optional English subtitles for the deaf and hard of hearing
All Credits goes to Original uploader.
No More Mirrors, Please.
7DBDB8E561C4972C25B4A4EF68697E0B *Crit294.avaxhome.ru.part01.rar
51C0C3462A6B4A8AD4F8FC07D6A9C685 *Crit294.avaxhome.ru.part02.rar
CDCDC9A72DA8B6E0DEB97EC6014557AE *Crit294.avaxhome.ru.part03.rar
DE3E8E4E1EBD4D22D5FAE30E4D4DDD89 *Crit294.avaxhome.ru.part04.rar
7A143EB70FC7305CD1C9A577ED689685 *Crit294.avaxhome.ru.part05.rar
425072747BABEBA83B013DC36923B1F7 *Crit294.avaxhome.ru.part06.rar
5E85FEC9A7F1AB804E1536439B055BA6 *Crit294.avaxhome.ru.part07.rar
BB823A8BDBCF4BC5693719CBBF28D21E *Crit294.avaxhome.ru.part08.rar
A0CA2F4DCC8A0B1C845954BC81A2E132 *Crit294.avaxhome.ru.part09.rar
550DD6D96EF9B39D2290E1DC51E2F70E *Crit294.avaxhome.ru.part10.rar
7C964DFA407B9E2B4EFE9277BC485203 *Crit294.avaxhome.ru.part11.rar
755E2CE21D2911A80E233CECD1E8578D *Crit294.avaxhome.ru.part12.rar
E9AA1B2F165A097C08967D2118E92B3F *Crit294.avaxhome.ru.part13.rar
0A524C2041A168D25866C5B0923EFF63 *Crit294.avaxhome.ru.part14.rar
583EC5345D31EF3E7E70E1E9F7CF21BC *Crit294.avaxhome.ru.part15.rar