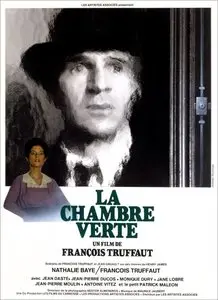 The Green Room (1978)
DVD5 | ISO+MDS | PAL 4:3 | 01:30:58 | 4,59 Gb
Audio: #1 French, #2 Spanish, #3 Italian, #4 German - AC3 2.0 @ 192 Kbps (each track)
Subtitles: English, Spanish, Dutch, French, German, Italian
Genre: Drama
Director:
François Truffaut
Stars:
François Truffaut, Nathalie Baye, Jean Dasté
A French little town, at the end of the twenties. Julien Davenne is a journalist whose wife Julie died a decade ago. He gathered in the green room all Julie's objects. When a fire destroys the room, he renovates a little chapel and devotes it to Julie and his other dead persons.
DVD Distributor:
MGM
Also known As:
The Vanishing Fiancée (1978)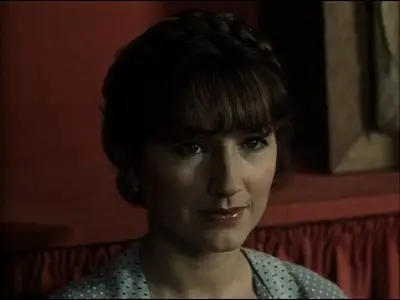 I was very impressed, when I watched this movie for the first time. I only knew Truffaut's most popular films (like Jules et Jim or Fahrenheit 451) by then. This film is so completely different than the ones mentioned above. I think Truffaut shows us his inner-self by playing the role of Julien Davenne, a journalist obsessed with the idea of building an altar for his dead. The audience gets a direct access to his feelings and thoughts about life and death. This film is a chance to understand Truffaut and his work better. He knew that the film would not be a box-office hit, but that was not important to Truffaut. He liked the short-stories by Henry James and just did what he wanted to.




In my opinion Truffaut did a beautiful job by making this film. I think this film demands very much from its viewers. "The Green Room" provokes a self-reflection in the viewer. The viewer has to deal with his own attitude towards life and death. So this is not an easy film to watch. But if you want a film that differs from all the high-tech, action-loaded movies of the present that simultaneously gives you a very personal access to the man who made it, "The Green Room" is a good choice.


IMDB Reviewer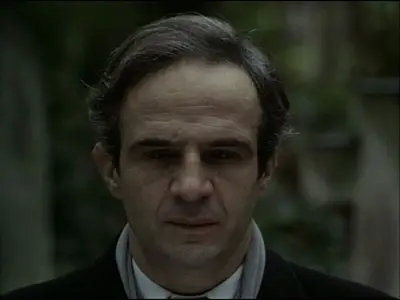 The Green Room is a thoughtful, reverent adaptation of Henry James'The Altar of the Dead. Julien Davenne (François Truffaut) is a lonely, disillusioned widower who writes for The Globe, an obsolete, nearly defunct newspaper (with a target audience of elderly people, its subscription base is literally dying). From his methodical, dispassionate demeanor, it is obvious that he is sleepwalking through life. He is, in fact, emotionally dead (Truffaut's cold, deadpan performance is intriguing to watch). He spends his evenings looking at slides of war casualties, and sitting alone in a green room, where he has carefully assembled his late wife's possessions.




He attempts to console his recently widowed friend, Gerard, by telling him to channel his grief into serving his wife's memory: "The dead only belong to us if we agree to belong to them." He is later appalled to learn that Gerard has become involved with another woman. When Julien meets a pensive, charming auction secretary named Cecilia Mandel (Nathalie Baye) who has experienced a similar loss, they decide to build a memorial in the bombed ruins of an abandoned church to honor their lost loved ones (note the effect of a similar act in Rene Clement's Forbidden Games). The haunting tragedy of the story lies in the characters' motives for the shrine. Cecilia envisions the memorial as a means of achieving healing and closure. To Julien, it is the culmination of his dedicated service to the memory of the dead. Having completed his life's work, his reason for existence is lost. The Green Room is a touching, cerebral film about grief, guilt, and survival.




François Truffaut uses a color palette that is washed and pale to set the thematic tone of the film (similar techniques are used in Andrei Tarkovsky's The Sacrifice). The opening battle scenes, filmed in black and white with blue tint, are almost monochromatic. The house, including the commemorative green room, appears dark, cold, and uninviting in tepid, washed colors. Julien is pale, unremarkable, and relatively expressionless. The effect is brooding and somber, a reflection of Julien's morbid preoccupation. The Green Room is a devastating portrait of a man consumed by such profound grief that he is incapable of experiencing the beauty and joy of life. It is a highly disturbing and provocative film about a man's self-destructive myopic obsession with loss and mortality.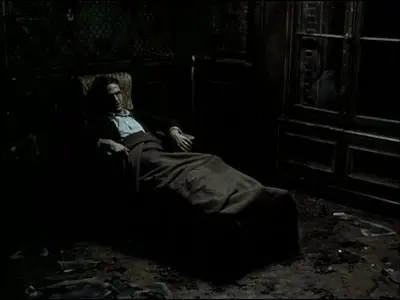 All Credits goes to Original uploader.
No More Mirrors, Please.
8F28EB11B39F01ABAD34F80F8CD0D5BA *Greeroom.part1.rar
70F68B7BB2790F4872687597FC59E61F *Greeroom.part2.rar
81CA654510E12ECBBC50B3F29BD13DB0 *Greeroom.part3.rar
E06F9C95FE501B3918D5D5ED7BD3148F *Greeroom.part4.rar
923D9A5701F05C58760FA17126C0A87B *Greeroom.part5.rar
A0B5D3585D3ABC3069FC86F0DB076AB5 *Greeroom.part6.rar
3DE8F49539958B033728BCAC3DABB886 *Greeroom.part7.rar
33234F402A477F95BB6598685BD29645 *Greeroom.part8.rar