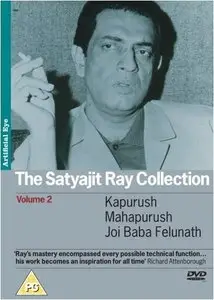 The Satyajit Ray Collection Vol.2 (1965-1978)
1xDVD9 + 2xDVD5 | ISO+MDS | PAL 4:3 | 252 mins | Total: 13,8 Gb
Audio: Bengali AC3 2.0 @ 192 Kbps | Subtitles: English
Genre: Family, Crime, Comedy, Classics
Satyajit Ray's artistic legacy is one of the most formidable in all of film history. Exceptionally versatile, his films covered almost every conceivable genre winning him nearly every major cinema award, including an Oscar for lifetime achievement.
What has been clear from the few films so far available on DVD by the Indian filmmaker Satyajit Ray, a view extended by the previous Artificial Eye release The Satyajit Ray Collection – Volume 1, is the director's ability to take a balanced, expansive and inclusive look at Bengali society through the strata of it class, culture, history, religion and family relationships, and by extension examine the wider aspects of cultural and social relationships by showing how it fitted into the wider changing world.

What hasn't been obvious from the releases available on DVD so far however is the wide range of means by which Ray would document the society he saw around him. Showing that in order to be a complete filmmaker (as well as an artist, an author and a musician) and more thoroughly examine all aspects of life and culture, it wasn't enough to make just social dramas, but films in a wide variety of genres, from satire and period drama to children's entertainments and detective mystery adventures.

The three films that make up The Satyajit Ray Collection – Volume 2 show this side of Ray's work, from the romantic love-triangle of Kapurush (The Coward) and the religious farce of Mahapurush (The Holy Man) to the crime thriller of Joi Baba Felunath, the films work as delightful entertainments while also managing to touch on other aspects of Bengali society that it might not be possible to approach in any other way. These films, often dismissed as minor Ray, are consequently just as significant in his examination of modern culture, since it is through the narratives of potboilers, love-stories, crime adventures and the movies that many of us form our view of the world.
––––––––––––––––––––––––––––––––––––––––––––––––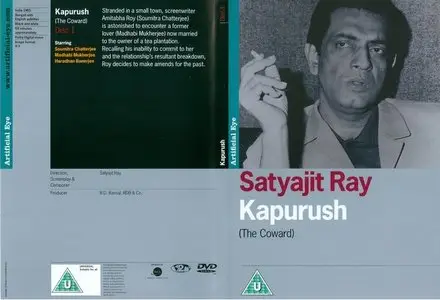 Kapurush (1965) The Coward
DVD5 | ISO+MDS | PAL 4:3 | 01:09:10 | 3,65 Gb
Audio: Bengali AC3 2.0 @ 192 Kbps | Subs: English
Genre: Drama
Stranded in a small town, screenwriter Amitabha Roy (Soumitra Chatterjee) is astonished to encounter a former lover (Madhabi Mukherjee) now married to the owner of a tea plantation. Recalling his inability to commit to her and the relationship's resultant breakdown, Roy decides to make amends for the past.
A relatively short film by Satyajit Ray standards, the director's 1965 film Kapurush (The Coward) actually forms part of a double-bill with Mahapurush (The Holy Man), also included separately in this collection. The first part of the diptych is in some ways complementary to the films around it, moving on from the themes in the earlier Mahanagar and Charulata, where women are forced suppress their own individuality and desires in favour of the direction laid down by a male-dominated society, but it also anticipates Nayak's look at the weaknesses in men (that one a "hero", this one a "coward"), and is also similarly connected in this way with the workings of the movie industry. The combination of the strength of the female characters when confronted with weak male behaviour makes for a particularly interesting situation in Kapurush.




The coward of the film's title (translated here on the Artificial Eye disc as 'The Bad Man' when paired with Mahapurush as 'The Good Man') is Amitabha Roy (Soumitra Chatterjee), a screenwriter on his way to Hashimara to stay with his brother while he soaks up the local colour of the region for a film he is currently writing. When his car breaks down miles from anywhere and he is unable to get a replacement part for the car, Roy has no option but to take up the offer of hospitality from Bimal Gupta (Haradhan Bannerjee), a tea-planter that he meets at the garage. Arriving at Gupta's home however, he finds that he recognises the man's wife Karuna (Madhabi Mukherjee), a woman he gave up while a college student in Calcutta, unwilling to oppose the plans that her parents had for the young woman. Still single and seeing her married to a man he feels is beneath her, living in a remote region far from civilised society, Roy recognises the error he made in the past as an act of cowardice. But is it too late now to make amends?




There is something self-fulfilling in Kapurush's situation where a screen writer goes out to the country to get local colour while writing a film romance that adheres to the formula of "boy meets girl, boy gets girl, boy loses girl" and finds just such a situation in his own experience. There doesn't appear to be any suggestion of a post-modern outlook in the search for a film becoming the film however – the director rather using it to provide a strong structure to examine other aspects that interest him in relation to class and the role of women in a male-dominated society.




Even in this rather light context therefore, Ray touches on social class and behaviour, showing that the modern society may have a different outlook on the caste system, but the British class system and its ideas of propriety that has replaced it is scarcely better, keeping Karuna very much in her place. With its flashbacks and present-day dramatic encounters between Karuna and Amitabha however, the film is more of an entertainment than a social document, with the emphasis being firmly on the personal tragedy of their failed love affair and the obstacles put in their way. "At least we can think about each other without anyone getting in the way", Karuna tells Amitabu in one of the Casablanca-like flashback sequences. The one place they can be free from the restrictions placed on them by a society that Amitabha is too much of a coward to challenge is in their minds. And, since Amitabha is a screenwriter, creating his own reality, the suggestion is that perhaps that freedom can be found in the movies too.
––––––––––––––––––––––––––––––––––––––––––––––––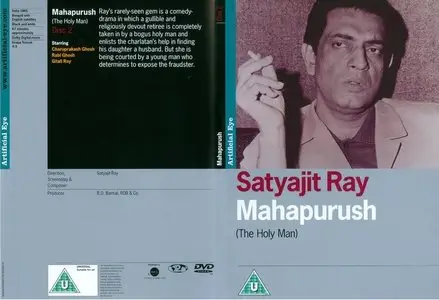 Mahapurush (1965) The Holy Man aka The Saint
DVD5 | ISO+MDS | PAL 4:3 | 01:07:26 | 3,60 Gb
Audio: Bengali AC3 2.0 @ 192 Kbps | Subs: English
Genre: Comedy
Ray's rarely-seen gem is a comedy-drama in which a gullible and religiously devout retiree is completely taken in by a bogus holy man and enlists the charlatan's help in finding his daughter a husband. But she is being courted by a young man who determines to expose the fraudster.
The second part of the Kapurush/Mahapurush pairing also certainly has elements of social observation, seen this time in the context of religious charlatanism versus science and rationality, but the story is very much presented in the form of an entertainment with a more overt comic touch and a short running time that prevents any serious examination of the issues.




Returning from Nasik on a train, the lawyer Gurupodo (Prasad Mukherjee) finds himself in the thrall of a seemingly wise Holy Man, Birinchi Baba (Charuprakash Ghosh), with whom he is sharing a carriage. Troubled and lost since the death of his wife a year ago, Gurupodo is looking for direction and believes he has found it when he witnesses the "miracle" of the Holy Man's ability to make the sun rise …at dawn. He installs the wise man in his house and not only becomes a disciple, he also intends to induct his daughter Buchki (Gitali Roy) into the priesthood. This causes rather a problem for Satta (Satindra Bhattacharya) who, in a roundabout way, was intending to ask Buchki to marry him. As the Holy Man makes claims that over his long lifetime he has been a teacher of Plato, Leonardo da Vinci and Einstein, as well as being on to be on first name terms with Buddha and having witnessed the Crucifixion of the Christ, Satto hopes he can convince his learned group of scientific and intellectual friends to expose him for the fraud he clearly is, and perhaps impress Buchki with his brilliance in the process.




Mahapurush is a relatively minor work from Satyajit Ray that clearly doesn't take its subject all that seriously. The director however is clearly aware that even played as a comedy, a film can just as effectively raise relevant issues that challenge credulity, superstition and reverence for those who claim to have worldly or otherworldly influence, opposing it with rational and scientific thought. The manner in which the film is delivered corresponds with this change of tone, Ray adding playful visual elements like a family tree and freezing of the frame and the narrative to explain the relationships between the various characters who appear, as well as having fun with references (many of which will go over the modern western viewer's head) and the nonsense dialogues of the Babaji (although the subtitles may add to this on occasion such as when his 'o tempora, o mores' pronouncement is somewhat amusingly rendered here as 'oh tempora, oh Boris', perhaps in a topical allusion to the current mayor of London).




Mahapurush doesn't quite have the depth, insight and characterisation of the Satyajit Ray's best work, but it is quite funny while showing another aspect of society and extending the director's range, showing him to be adept in a variety of styles and subjects. The only lasting impression the film is likely to have however is that it's guaranteed to have you attempting to spin your fingers in opposite directions, which at least testifies to the power of symbolism over rationality.
––––––––––––––––––––––––––––––––––––––––––––––––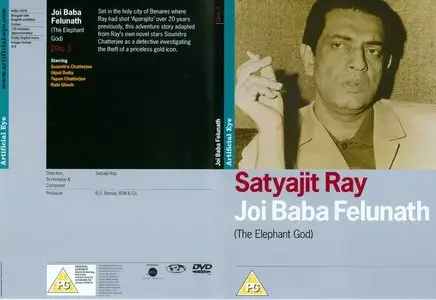 Joi Baba Felunath (1979) The Elephant God
DVD9 | ISO+MDS | PAL 4:3 | 01:56:04 | 6,53 Gb
Audio: Bengali AC3 2.0 @ 192 Kbps | Subs: English
Genre: Family, Adventure, Crime | India
Set in the holy city of Benares where Ray had shot 'Aparajito' over 20 years previously, this adventure story adapted from Ray's own novel stars Soumitra Chatterjee as a detective investigating the theft of a priceless gold icon.
Set in the Holy City of Benares/Kashi (where Ray filmed his earlier film in the Apu trilogy, Aparijito), where many devotees come to sit in the presence of another Holy Man, it would initially seem that Joi Baba Felunath is another examination of people's relationships with religion and figures of power and influence, and in a way it is, but filmed as a detective investigation featuring an Indian Sherlock Holmes character created by Ray for a series of novels (this being his second outing on the screen under the direction of Ray after Sonar Kella - The Golden Fortress) and wrapped up in pop-culture references, the film takes a much broader view of the subject while a the same time being a fabulous entertainment.




There are many people who come to the Holy City of Kashi and many Bengalis live and worship there, many of them coming to sit in the presence of a wise Holy Man, Mochili Baba (Monu Mukherjee), but it would seem that there other criminal enterprises going on behind the scenes of even the most respectable households and institutions. A valuable jewelled gold statue of the Elephant God Ganesha has been stolen from the house of Mr Ghoshal. His father, an aficionado of crime fiction, has however heard that the famous detective Prodosh Mitra (Soumitra Chatterjee) has arrived in Kashi, on holiday with his cousin Topesh (Siddharta Chatterjee) and the popular writer Mr Ganguly (Santosh Dutta), and asks him to investigate the matter. Since the statuette disappeared the very next day after Mr Ghoshal had refused an offer of a large sum of money for it from Magnalal Meghraj (Utpal Dutt), a businessman known to be involved in the illegal trade of precious Indian artefacts, the culprit seems obvious, but Detective Mitra finds that the matter is more complicated than it appears.




Set against the backdrop of Kashi Benares, Joi Baba Felunath is certainly a colourful, attractively shot and entertaining feature from Satyajit Ray, if one that seems a little inconsequential from the director who made Aparajito there twenty years previously, but there is much more to the film than its relatively straightforward detective story narrative seems to indicate. What Detective Mitra discovers when he investigates the crime is not just the fraudulence of appearances hidden behind worship and religious devotion, but a far more complex situation in a modern world where the trappings of popular culture hold as much influence as religious and traditional images.




In the Ghoshal household where posters of Batman and Tarzan sit alongside statues of the Goddess Durga, Captain Sparks's revolver is as an important an artefact to some as the statue of Ganesha and the coded language of Hinyali is as valid a means of expression as Bengali. Even the older generation represented by Ghoshal's father has taken on aspects of English culture and thinking in his love for Sherlock Holmes and crime fiction. Ray doesn't necessarily show this in a critical or provocative manner, but observes and recognises the growing mix of low, middle and high brow culture from the outside world the influence it has on Bengali culture, as well as the manner in which Indian religious artefacts and Eastern mysticism can conversely become something else when taken out of their context in trade to the outside world. More than that, Ray shows just what can be achieved through this unique and rich blend of Indian and Western values in this wonderfully entertaining film.
––––––––––––––––––––––––––––––––––––––––––––––––
The three films included in The Satyajit Ray Collection - Volume 2 may certainly be relatively minor works by the director, the approach may be different and the subjects may not seem important, but they each demonstrate the same attention to characterisation, theme and sensibility that inform the director's best films. Even as mere entertainments, they allow the director to expand his own considerable range, his audience and his look at all aspects of life, not least of which is a self-reflective look at the movie industry and its importance in how it portrays and informs our view of society.
All Credits goes to Original uploader.