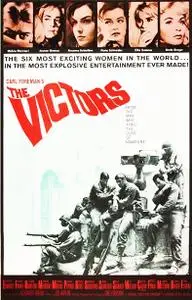 The Victors (1963)
DVDRip | MKV | 702x404 | x264 @ 1478 Kbps | 146 min | 1,75 Gb
Audio: English AC3 2.0 @ 192 Kbps | Subs: English SDH (embedded in MKV)
Genre: War, Drama
Director:
Carl Foreman
Writers:
Alexander Baron (novel), Carl Foreman (written for the screen by)
Stars:
Vince Edwards, Albert Finney, George Hamilton
War has no victors, only survivors. Killing destroys the killers as well as the killed; because it murders decency, self-respect and ultimately life itself. The story follows in the footsteps of a squad of young American solders from the early days of the Battle of Britain, through the fierce fighting in Italy and France, to the uneasy peace of Berlin.
It's been many years since I've seen this picture, but there are scenes and sequences which I will never forget.

Essentially, the film tells how war, any war, ultimately de-humanizes everyone it touches. Some survive. Some don't. Others are permanently scarred. Through the cracks in the rubble, human goodness and feeling sometimes emerges, but the overall cost is unbearably heavy.

Particularly powerful are sequences where George Hamilton returns to the European city to visit the girl he'd fallen in love with, not expecting to find what he finds has happened to her; George Peppard visiting "old sarge" in the hospital, also to be surprised; the ugly face of racial violence within the armed forces.

Episodic, yes, even maddeningly so, as the film loosely follows a group of sometimes unconnected soldiers and what happens to them and others–but still, THE VICTORS haunts and reminds us that war is the last acceptable choice of human activities.
(click to enlarge)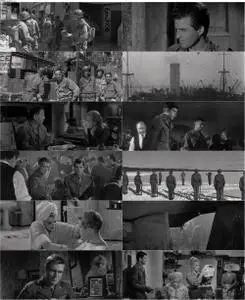 More in My Blog