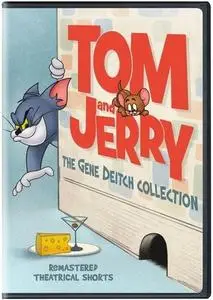 Tom and Jerry [Gene Deitch Collection] (1961-1962)
DVD Video | 13 x ~ 9mn | NTSC 4:3 | 720x480 | 5.22 Gb
English \ Spanish (Español)\ Thai (ภาษาไทย): AC3, 1 ch, 192 Kbps
Subtitles: English, French, Spanish, Thai
Genre: Animation, Comedy, Short


Tom and Jerry: The Gene Deitch Collection is a collection of animated short cartoons starring Tom and Jerry, all directed by Gene Deitch and released in 1961-62. All 13 cartoons restored & remastered, along with two documentaries.
Switchin' Kitten (1961)
https://www.imdb.com/title/tt0055493/
Tom finds Jerry helping a mad scientist switch the minds of various creatures.
Down and Outing (1961)
https://www.imdb.com/title/tt0054822/
Tom and Jerry head out for a fishing trip and do their best to get rid of each other.
It's Greek to Me-ow! (1961)
https://www.imdb.com/title/tt0055025/
The usual Tom and Jerry hijinks, set in ancient Greece; parts are set in the streets, parts in a temple.
High Steaks (1962)
https://www.imdb.com/title/tt0056068/
The usual antics of Tom and Jerry interfere with a man trying to barbecue.
Mouse Into Space (1962)
https://www.imdb.com/title/tt0056252/
Jerry reads that there are no cats in outer space, so he signs up for a trip but Tom ends up stowing away anyhow.
Landing Stripling (1962)
https://www.imdb.com/title/tt0056164/
A young bird flies into Tom's territory, but quickly allies himself with Jerry. Tom shows a coyote-like persistence and reliance on ever more elaborate schemes to catch the bird.
Calypso Cat (1962)
https://www.imdb.com/title/tt0055822/
Tom falls for a female cat but she quickly loses interest in him when they arrive in at an island and Jerry torments him.
Dicky Moe (1962)
https://www.imdb.com/title/tt0055909/
The captain's obsession with the white whale Dicky Moe led his crew to abandon ship. He abducts Tom and enlists him as crew but Jerry's already on board to help make Tom's life miserable.
The Tom and Jerry Cartoon Kit (1962)
https://www.imdb.com/title/tt0056595/
Using a kit that contains both Tom and Jerry anyone can enter the lucrative field of animated cartoons.
Tall in the Trap (1962)
https://www.imdb.com/title/tt0056553/
Jerry is a cheese rustler in the old west and Tom gets deputized to bring him to justice.
Sorry Safari (1962)
https://www.imdb.com/title/tt0056513/
Tom and Jerry accompany a man on a safari trip into the jungle. Like usual, Tom attempts to catch Jerry, but the man in the safari is fed up with Tom's antics and is very bitter to him.
Buddies… Thicker Than Water (1962)
https://www.imdb.com/title/tt0055814/
During a blizzard, Jerry helps Tom out by getting him into a warm penthouse only to be betrayed by Tom.
Carmen Get It! (1962)
https://www.imdb.com/title/tt0055829/
Jerry runs into the Metropolitan Opera (preparing to perform Carmen), so Tom poses as a violinist, with help from a hidden tape recorder.
Extras:
- Two featurettes help to put these cartoons into proper context for casual fans.
- "Tom and Jerry…and Gene" (18:07): The Rembrant Years (which contains a newly-shot interview with Deitch discussing his work on the series and how he and his foreign team of animators continued to crank out these cartoons on a much smaller budget due to the studio changes.)
you can't blame the guy for being defensive during the bulk of this interview, considering the critical response towards his shorts during the last few decades. Among other topics, Deitch speaks about working with Joe Vogel, the Iron Curtain, his UPA background, the difference between Czech and American animation, puppet theater, creative corner-cutting and "limited animation", critical backlash (including a death threat), and more. We also get a look at early sketches, vintage photographs (both seen above), and a few storyboards.
- "Much Ado About Tom and Jerry" (18:53) is a broader look at the cat and mouse duo, from Hanna-Barbera's original run through the Deitch and Jones years, including 1990s revivals like Tom and Jerry Kids, the 1992 movie, and more recent theatrical shorts including "The Karate Guard" (2005), Joseph Barbera's last stab at T&J before his retirement and 2006 death. Barbera is also seen briefly in an interview, which leads me to believe this featurette is about 10 years old. Narrated by Peter Thomas, it's an interesting but loosely related effort that fans should enjoy…and, as far as I know, has not been included on any other Tom and Jerry discs. Frustratingly enough, optional English subtitles are not offered during these featurettes…but they are included during the mostly dialogue-free cartoons.
- Trailers


Title: TomAndJerry.GeneDeitchCollection.D9
Size: 5.22 Gb ( 5 471 522,00 KBytes ) - DVD-9
Enabled regions: 1, 2, 3, 4, 5, 6, 7, 8

VTS_01 :
Play Length: 01:35:50+00:00:00+{00:08:51}+{00:06:56}+{00:06:53}+{00:06:35}+{00:06:48}+{00:06:32}+{00:07:41}+{00:07:06}+{00:06:39}+{00:07:39}+{00:07:20}+{00:09:00}+{00:07:44}
Video: NTSC 4:3 (720x480) VBR
Audio:
English (Dolby AC3, 1 ch)
Espanol (Dolby AC3, 1 ch)
Thai (Dolby AC3, 1 ch)
Subtitles:
English
Francais
Espanol
Thai

VTS_02 :
Play Length: 00:00:11
Video: NTSC 16:9 (720x480) VBR, Auto Letterboxed
Audio:
Not specified (Dolby AC3, 6 ch)
Subtitles:
Not specified

VTS_03 :
Play Length: 00:03:54
Video: NTSC 16:9 (720x480) VBR, Auto Letterboxed
Audio:
English (Dolby AC3, 2 ch)
Subtitles:
Not specified

VTS_04 :
Play Length: 00:18:07
Video: NTSC 16:9 (720x480) VBR, Auto Letterboxed
Audio:
English (Dolby AC3, 6 ch)
Subtitles:
English
Francais
Espanol
Thai

VTS_05 :
Play Length: 00:01:32+00:01:04+00:18:53
Video: NTSC 4:3 (720x480) VBR
Audio:
English (Dolby AC3, 6 ch)
Espanol (Dolby AC3, 6 ch)
Thai (Dolby AC3, 6 ch)
Subtitles:
English
Francais
Espanol
Thai

VTS_06 :
Play Length: 00:01:22
Video: NTSC 4:3 (720x480) VBR
Audio:
English (Dolby AC3, 6 ch)
Subtitles:
English
Francais
Espanol
Thai