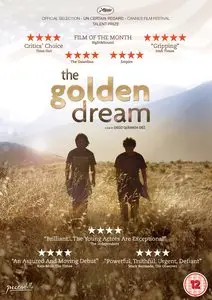 The Golden Dream (2013)
DVDRip | AVI | 720 x 304 | XviD @ 2000 Kbps | 103 min | 1,73 Gb
Audio: Spanish AC3 Kbps AC3 5.1 @ 256 Kbps | Subs: English, Czech,
French, Hungarian, Portuguese-BR, Serbian, Turkish
Genre: Drama
Juan, Samuel and Sara leave Guatemala hoping for a better life in the US. On their way, they are joined by a Tzotzil indian boy, Chauk. Together, their journey to America will be a dangerous one, joining many others who travel on this infamous route in search of the American Dream. THE GOLDEN DREAM is Diego Quemada-Diez's astounding debut feature film. In its realist depiction of friendship and survival against the striking yet dangerous Mexican backdrop, the film is reminiscent of the gripping and moving dramas of Ken Loach, with whom Diego Quemada-Diez collaborated on Carla's Song, Land and Freedom and Bread and Roses.
… There are great cerebral filmmakers who make you ponder about the nature of Existence (Bergman, Tarkovsky etc); then there are those who draw you into their story in a way that you intimately experience the character's existence and share his world-view. With this impressive debut, Diego Quemada-Diez shows streaks in that second, rare breed; of being not necessarily a cerebral filmmaker, but more of a poet or artist and filling the canvas with strokes of 'feel', and not 'reason'. Diego spends much of the reel time cataloging what these little insignificant lives do – these little dots on the map that flitter about the earth from here to there going seemingly nowhere, affected by the random turns of life; but through the length of the film, he lets us know them personally, and that gives these unknown lives and their unsung stories a soul. On knowing them, we discover they have values of friendship, loyalty, love, honor, sacrifice, without the knowledge or pride of knowing these are noble values. By the end of the film, I recognize what happens to these children might happen to anyone were we not protected by the proud shackles of civilization and education. Theirs, on the other hand, is the raw, wild spirit, proud and dreamy, full of self-belief; yet suffering from their oversimplified, innocent view of the world.

Poetry in film is a tribute I once paid to Joon-ho Bong, after watching his beautifully haunting "Memories of Murder", where the 'feelings' the movie impressed on me stayed well after watching it. In "Memories of Murder", I could 'smell the rain' till few days after watching the movie. After finishing this cross-continental travelogue of "La Jaula de Oro" few days back, I still feel dry in my throat and dry on my face: it is a thirst unquenched. It is a promise unfulfilled. A dream betrayed and denied, as a direct consequence of my ignorance of the world I live in. I feel I have paid for my foolishness; for the reckless pursuit of my desire for a better life, for my over simplified view of the world. Now, I'm more than thousand miles away from home. My skin is full of scabs, my eyes still dirty from the travel, my hands stained with grease from my new job in the promised land, but my head is turned upward, and when in the night, snowflakes fall over my eyes like infinite stars from the sky, I'm cleansed. Like Juan, I know my heart is always ablaze with an infinite Hope for wonder, and that can never die.


IMDB Reviewer
(click to enlarge)