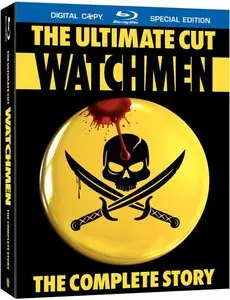 Watchmen (2009, The Ultimate Cut)
1080p BluRay Rip | MKV | 1920 x 800 | x264 @ 8077 Kbps | 03:35:26 | 13,54 Gb
Audio: English AC3 5.1 @ 640 Kbps | Subs: English
Genre: Action, Mystery, Sci-Fi | 4 wins | USA
300's Zack Snyder brings Alan Moore and Dave Gibbons' critically acclaimed comic book Watchmen to the big screen, courtesy of DC Comics and Warner Bros. Pictures. Set in an alternate universe circa 1985, the film's world is a highly unstable one where a nuclear war is imminent between America and Russia. Superheroes have long been made to hang up their tights thanks to the government-sponsored Keene Act, but that all changes with the death of The Comedian (Jeffrey Dean Morgan), a robust ex-hero commando whose mysterious free fall out a window perks the interest of one of the country's last remaining vigilantes, Rorschach (Jackie Earle Haley). His investigation leads him to caution many of his other former costumed colleagues, including Dr. Manhattan, Night Owl (Patrick Wilson), Ozymandias (Matthew Goode), Sally Jupiter (Carla Gugino), and her daughter, The Silk Spectre (Malin Akerman). Heralded for bringing the world of superheroes into the literary world, Watchmen gave the super-powered mythos a real-life grounding that had been missing in mainstream comics to that point. The film adaptation had languished in one form of development hell or another for years after the book's release, with various directors on and off the project, including Terry Gilliam, David Hayter, and Darren Aronofsky, as well as Paul Greengrass, whose eventual dismissal stemmed from budget conflicts with the studio.
IMDB
Surely, one of the greatest quandaries faced by the modern film reviewer is the question of how much credence should be given to fanboys. In a period when adaptations of cult properties are at an all-time high, the inevitably nitpicky opinions of a comic's original fans are often loud enough to eclipse the general sentiment on a film – even when they represent a tiny portion of the movie's overall viewership.




But, of course, part of the reason that old-school fans voice their concerns so loudly is that they have a good reason to be protective of their beloved source material. Case in point: 2009's big-screen version of Alan Moore's graphic novel Watchmen. Set in an alternate universe where, in 1985, the U.S.'s desperate search for Cold War security has Nixon presently serving his fifth term, the story sets up a multi-generational history of the superhero (known in this world as the "costumed adventurer"), wherein ordinary people with extraordinary skills, determination, and neuroses put on capes and masks to hit the New York streets and fight crime.




The first wave of adventurers rose to fame during the 1940s, but eventually fell from both effectiveness and public favor, marred by years of scandal, disgrace, and disaster. Obviously, the book is free to explore this area of the timeline as extensively as it wants, but the movie is limited by time, constraining most of it to the role of prefacing backstory, presented in what is, admittedly, one of the coolest credit sequences ever. The narrative then jumps into Gen 2 of the costumed adventurers, which includes an actual child of the first lineup, the ridiculously hot Laurie, aka Silk Spectre II (Malin Akerman). The rest of the group includes the humanity-hating Rorschach (Jackie Earle Haley), whose ever-changing ink-blot mask shifts like some kind of malevolent lava lamp; the soft-spoken Dan, aka Nite Owl II (Patrick Wilson), who dons the most effective pair of gigantic eyeglasses since Clark Kent; and the effete genius Adrian, aka Ozymandias (Matthew Goode), who rocks the best ambiguous smarty-pants accent since Julianne Moore in The Big Lebowski.




There's also the big, blue Dr. Manhattan (Billy Crudup), whose superhero presence spans the two generations, since he doesn't age. This would be because, back when he was a mild-mannered physicist named Jon, he got stuck in the middle of some experiment or other, the details of which are not really important. Forced to basically reconstitute a physical body for himself, Jon now essentially exists on a quantum level, where he doesn't interact with time and space the way the rest of humanity does. As the events of the story play out, his character brings both the narrative and the subtext full circle. The second-generation group, long since disbanded, must reunite on the pretext of investigating the murder of a first-gen member (The Comedian, played by an awesomely grizzled Jeffrey Dean Morgan), but more pertinently, regarding the anticipated upcoming nuclear holocaust.




The old Batman idea that this damn city is falling apart, and that it takes a tireless, slightly insane person to keep fighting the unrelenting tide of humanity's destructive nature is incredibly effective with the backdrop of Gotham expanded to include the whole world. We start to understand how the first generation of heroes inevitably fell from grace, how the battle against society's wickedness is a losing game, and how the Watchmen are just that: men (and woman). They aren't any more exempt from the vices of humankind than the punks they pick off the city's underbelly.




Except, of course, for Dr. Manhattan. He's the only hero with actual superhero-type powers, but in a Catch-22 that illustrates the story's overall thesis, wielding nonhuman abilities means becoming nonhuman – and therefore lacking a hero's necessary sense of protectiveness over his brethren. By the time the film reaches its highest-of-the-high-stakes climax, Dr. Manhattan has become so removed from the most fundamental experiences of carbon-based life – let alone humanity – that he no longer feels the pull to fight for its survival.




This is where the strength of Watchmen's storytelling really becomes clear, because it gets us on board with both humankind's struggle and Manhattan's detachment. We get it: life is a tumult of inescapable brutality. But we still accept Manhattan's vexingly reasonable remoteness – not to mention his computer-generated genitalia (thanks in no small part – no pun intended – to Crudup, whose compelling sense of otherworldliness somehow keeps us from giggling at his constant, earnest, blue-glowing full-frontal nudity). It may not include every nuance of the graphic novel, but it captures as much as any adaptation could – which may not satisfy the fanboys, but it's probably more than enough for everyone else.


Cammila Albertson, Rovi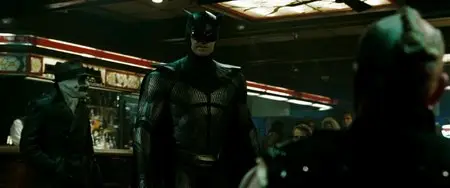 "Watchmen" focuses on the contradiction shared by most superheroes: They cannot live ordinary lives but are fated to help mankind. That they do this with trademarked names and appliances goes back to their origins in Greece, where Zeus had his thunderbolts, Hades his three-headed dog, and Hermes his winged feet. Could Zeus run fast? Did Hermes have a dog? No.




That level of symbolism is coiling away beneath all superheroes. What appeals with Batman is his humanity; despite his skills, he is not supernormal. "Watchmen" brings surprising conviction to these characters as flawed and minor gods, with Dr. Manhattan possessing access to godhead on a plane that detaches him from our daily concerns — indeed, from days themselves. In the film's most spectacular scene, he is exiled to Mars, and in utter isolation reimagines himself as a human, and conjures (or discovers? I'm not sure) an incredible city seemingly made of crystal and mathematical concepts. This is his equivalent to 40 days in the desert, and he returns as a savior.

The film is rich enough to be seen more than once. I plan to see it again, this time on IMAX, and will have more to say about it. I'm not sure I understood all the nuances and implications, but I am sure I had a powerful experience. It's not as entertaining as "The Dark Knight," but like the "Matrix" films, LOTR and "The Dark Knight," it's going to inspire fevered analysis. I don't want to see it twice for that reason, however, but mostly just to have the experience again.


Excerpt from Roger Ebert's Review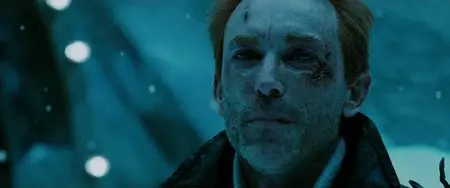 Thank to original uploader!!!
No More Mirrors.