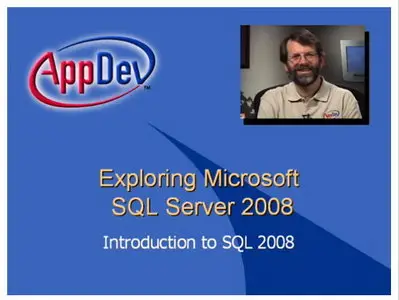 AppDev Exploring Microsoft SQL Server 2008 DVD | 1.3 GB
This course looks at many of the new features within Microsoft SQL Server 2008 and will give you a first look at Microsoft's new powerful database server.
You will learn about new T-SQL data types and syntax enhancements, see how to store and manipulate unstructured data, and learn about the SQL CLR and new advances in client data access. You'll also take a first look at the new Visual Studio Team System Edition 2008 for Database Professional, and check out the new and improved administrative features in PowerShell, security, FullText search, and many more.
In this course, you will learn how to…
* Use the new features in Management Studio for administering a database, creating objects, and writing and debugging code.
* Apply what's new in Integration Services, Reporting Services, Service Broker and Analysis Services.
* Install or upgrade from an earlier version of SQL Server.
* Use the new data types, including spatial data and heirarchyID.
* Apply Sparse columns and column sets to effect databases size.
* Exploit Table-valued parameters.
* Use Grouping sets to streamline complex GROUP BY clauses.
* Utilize the MERGE statement to perform multiple operations in a single statement.
* Make use of enhancements to SQLCLR code.
* Utilize Visual Studio 2008 Team System for Database Professionals, or Data Dude, to build database projects.
* Operate newly integrated Full-Text Search.
Download:
http://rapidshare.com/files/363938275/AEMSS2008DVD-iNK.part01.rar
http://rapidshare.com/files/363947964/AEMSS2008DVD-iNK.part02.rar
http://rapidshare.com/files/363958677/AEMSS2008DVD-iNK.part03.rar
http://rapidshare.com/files/363970025/AEMSS2008DVD-iNK.part04.rar
http://rapidshare.com/files/363981411/AEMSS2008DVD-iNK.part05.rar
http://rapidshare.com/files/363994252/AEMSS2008DVD-iNK.part06.rar
http://rapidshare.com/files/363855486/AEMSS2008DVD-iNK.part07.rar
http://rapidshare.com/files/363867361/AEMSS2008DVD-iNK.part08.rar
http://rapidshare.com/files/363877074/AEMSS2008DVD-iNK.part09.rar
http://rapidshare.com/files/363887609/AEMSS2008DVD-iNK.part10.rar
http://rapidshare.com/files/363900169/AEMSS2008DVD-iNK.part11.rar
http://rapidshare.com/files/363913311/AEMSS2008DVD-iNK.part12.rar
http://rapidshare.com/files/363925183/AEMSS2008DVD-iNK.part13.rar
http://rapidshare.com/files/363927519/AEMSS2008DVD-iNK.part14.rar