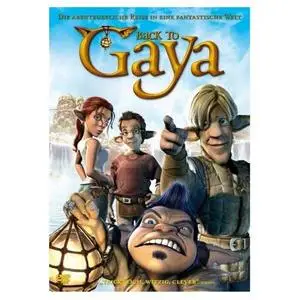 Back to Gaya (DVD-Rip)
AVI DivX | Video: 136 Kbps, 656 x 272 | MP3 128 Kbps
699 MB | 87 min | English language
Boo, a brilliant inventor of gadgets, and Zino, a not-too-bright but shining hero, have been battling three Snurks called Galger, Zek and Bramph for as long as they can remember. What these intrepid good guys and their bumbling bad guy enemies don't know is that their entire world of Gaya is really a television show – a popular cartoon adventure series in which Boo and Zino are the stars!
As Boo, Zino and the Snurks begin another action-packed day in Gaya, their lives are about to be turned upside down. A raving mad scientist named Professor N. Icely wants revenge. He invents a powerful machine to steal Gaya's energy source, the Dalamite Crystal, and send it into the human world. Boo, Zino and the Snurks, along with a feisty Gayan girl called Alanta, try to save the crystal but end up being sucked out of the television and into the world outside! It's an adventure like no other for the bewildered characters who must learn to work together if they want to make it back to Gaya.