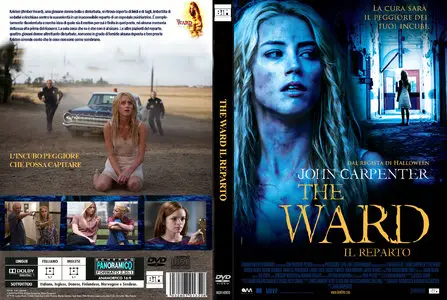 The Ward (2010)
DVD9 | VIDEO_TS | ISO | PAL Area 2 | 2.35:1 | 16:9 | 720x576 | Dolby Digital 5.1 / 2.0 AC3 | 01:24:52 | 5.5 Gb
Languages: Italian, English | Subtitle: Italian
Genre: Thriller | Extra: Scene Selection, Menù
At the North Bend Psychiatric Hospital in 1966, a young patient named Tammy is attacked and killed by an unseen force during the night.
The next day, Kristen (Amber Heard), a beautiful but troubled young woman, finds herself bruised and cut, whilst setting fire to an abandoned farmhouse. The local police find her and take her to the psychiatric hospital.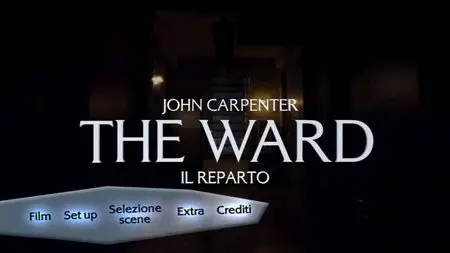 She is taken to the ward where she meets the other patients that reside there, Iris (Lyndsy Fonseca), Sarah (Danielle Panabaker), Emily (Mamie Gummer), and Zoey (Laura Leigh). She is given Tammy's old room and is given medication so that she can rest for the night. While Kristen sleeps, her blanket is mysteriously pulled under the bed. Waking up to retrieve her blanket, Kristen finds a broken charm bracelet.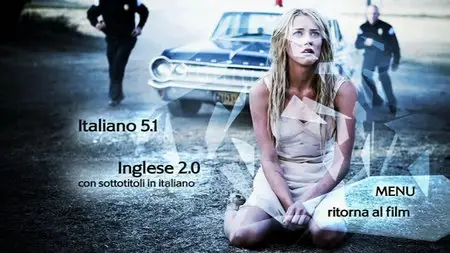 The next morning, she meets Dr Stringer (Jared Harris). In his office, Dr Stringer tells Kristen that she had the address of the farmhouse written on her hand and asks about the fire and what she remembers. Kristen is unable recall anything and insists that she is not crazy. Later that night, she attempts to escape only to be caught by one of the orderlies and returned to her cell. Waking up in the middle of the night, Kristen catches a glimpse of a horribly disfigured figure who was staring at her through her door window.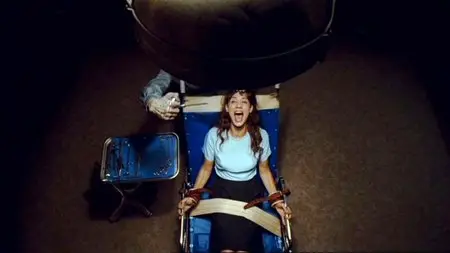 While in the courtyard with Iris and Emily, Kristen sees two people looking at her from Dr Stringer's office. The girls give no clue as to who they are, only to tell Kristen that they have been there before many times. Whilst taking a shower, Kristen is suddenly attacked by the disfigured figure. However, upon telling the nurse this, she is drugged and put through intense electroshock therapy.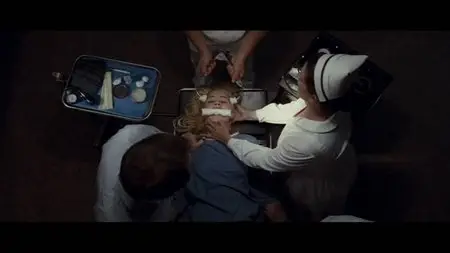 Dr Stringer runs a therapy session with all of the girls, where Tammy's existence is briefly mentioned but quickly dismissed. Iris attends her last therapy session with Dr Stringer where he uses hypnotherapy to unlock Iris' hidden memories. After the session, Iris is kidnapped and killed by the disfigured figure.
Kristen, concerned about Iris, confronts the girls and staff about her disappearance but everybody keeps quiet. Kristen finds Iris' sketchbook and looks through all of the drawings to find a picture of a girl named Alice and another picture of the ghostly figure that had attacked her previously, with the name Alice Hudson at the top of its page. Retrieving the broken bracelet, Kristen pieces together the letters, which spells out the name "ALICE".
Kristen confronts Dr Stringer and tries to convince him that the ghost of Alice Hudson is haunting the girls. Dr Stringer denies the existence of a ghost and cryptically tells her that she needs to find the answers out for herself. Kristen confronts the girls about Alice where Emily confesses that Alice was once a patient at the hospital but that she got out. That night, Kristen and Emily attempt to escape the ward. Their escape is discovered and the alarm is raised. Kristen makes it to the front entrance of the hospital but Alice's ghost appears in front of her, causing her to fall over in fright. Kristen blacks out and awakens back in her room the next morning. It is revealed that Emily was caught by the orderlies during the escape.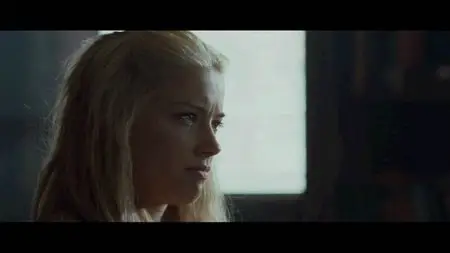 The Ward is a 2010 film directed by John Carpenter.[ The screenplay is written by Michael Rasmussen and Shawn Rasmussen. It stars Amber Heard, Danielle Panabaker, Mika Boorem, and Jared Harris. The film debuted in the UK on January 21, 2011. It is Carpenter's first full-length feature film since Ghosts of Mars in 2001.
The story revolves around a young institutionalized woman named Kristen (Amber Heard) who is haunted by a mysterious and deadly ghost. As danger creeps closer, she comes to realize that this ghost might be darker than anything she ever could have imagined.
From Wikipedia
Italian
La ventenne Kristen si sveglia e scopre di essere tenuta contro il suo volere in un remoto reparto dell'ospedale psichiatrico Chamberlain, ferita, tagliata e drogata. È completamente disorientata e non ha idea del motivo per cui è stata portata in questo posto e non ha alcuna memoria del passato. Le altre quattro pazienti del reparto sono tutte ragazze che hanno lo stesso problema che non hanno risposte da offrire a Kristen che realizza che le cose non sono come sembrano. L'aria è piena di segreti e di notte quando l'ospedale è al buio, sente dei strani e disturbanti rumori. Sembra che non sono sole. Una ad una le ragazze spariscono e Kristen deve trovare un modo per uscire da questo luogo infernale prima che il fantasma vada anche da lei. Mentre cerca una via di fuga, scoprirà un segreto molto più pericoloso e terrifivante che nessuno avrebbe mai potuto immaginare.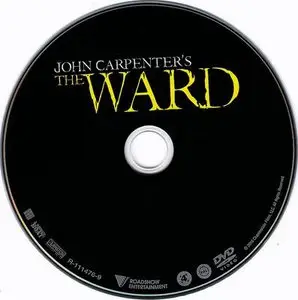 General
Complete name : C:\Download Scaricati\wrd\VTS_01_0.IFO
Format : DVD Video
Format profile : Program
File size : 78.0 KiB
Duration : 1h 24mn
Overall bit rate : 125 bps

Video
ID : 224 (0xE0)
Format : MPEG Video
Format version : Version 2
Duration : 1h 24mn
Bit rate mode : Variable
Width : 720 pixels
Height : 576 pixels
Display aspect ratio : 16:9
Frame rate : 25.000 fps
Standard : PAL
Compression mode : Lossy

Audio #1
ID : 128 (0x80)
Format : AC-3
Format/Info : Audio Coding 3
Duration : 1h 24mn
Channel(s) : 6 channels
Sampling rate : 48.0 KHz
Compression mode : Lossy
Language : Italian

Audio #2
ID : 129 (0x81)
Format : AC-3
Format/Info : Audio Coding 3
Duration : 1h 24mn
Channel(s) : 2 channels
Sampling rate : 48.0 KHz
Compression mode : Lossy
Language : English

Text
ID : 32 (0x20)
Format : RLE
Format/Info : Run-length encoding
Bit depth : 2 bits
Language : Italian

Menu
Duration : 1h 24mn
00:00:00.000 : Chapter 1
00:06:49.720 : Chapter 2
00:18:10.840 : Chapter 3
00:29:34.840 : Chapter 4
00:35:21.880 : Chapter 5
00:40:21.400 : Chapter 6
00:44:57.880 : Chapter 7
00:53:58.840 : Chapter 8
00:59:04.120 : Chapter 9
01:05:17.080 : Chapter 10
01:10:34.840 : Chapter 11
01:17:14.200 : Chapter 12
List (Audio) : 0 / 1
List (Subtitles 4/3) : 0
List (Subtitles Wide) : 0
List (Subtitles Letterbox) : 0
List (Subtitles Pan&Scan) : 0




IMDB: Rating 5.7/10
http://www.imdb.com/title/tt1369706/
Titolo Originale: THE WARD
Regia: John Carpenter
Interpreti: Amber Heard, Danielle Panabaker, Lyndsy Fonseca, Mamie Gummer, Jared Harris, Mika Boorem, Leigh-Laura, Sean Cook, Sali Sayler, Jillian Kramer
Durata: h 1.26
Nazionalità: USA 2010
Genere: Thriller
Al cinema nell'Aprile 2011
Lingue: DD 5.1 Italiano, DD 2.0 Inglese
Sottotitoli:Italiano
Menù: Sì
Extra: Sì
Metodo di Rilascio: ISO 5,55 GB
Software utilizzati DVDfab
Compression: No

Filesonic.com

|

Wupload.com

|

Uploaded.to

|

Fileserve.com



Click HERE for others Movies in DVD9 format
Please DO NOT MIRROR
If you'll find that my links are dead please let me know through the Private Messages.
>>> Visit edi1967 Blog Here <<<