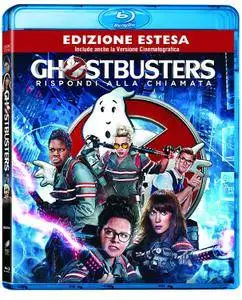 Ghostbusters [EXTENDED] (2016)
A Film by Paul Feig
BDRip | AVI | 720 x 304 | Xvid @ 1855 Kbps | 02:13:45 | 5% Recovery | 2.4 GB
Audio: Italian AC3 @ 640 Kbps CBR (BDFULL) | Subtitles: English, Italian (.srt)
Genre: Action, Comedy, Family
Abby ed Erin sono una coppia di scrittrici semi sconosciute che decidono di pubblicare un libro sui fantasmi. La loro tesi consiste nell'affermare che questi sono assolutamente reali. Tempo dopo Erin ottiene un prestigioso incarico come docente della Columbia University. Quando il libro sugli spettri, ormai dimenticato, ricompare, diventerà lo zimbello della facoltà e sarà costretta a lasciare il lavoro. La sua credibilità è persa ed Erin decide a quel punto di riunirsi ad Abby aprendo una ditta di acchiappafantasmi. Scelta che si rivela vincente: Manhattan è invasa da una nuova ondata di spettri e non ci sarà altro da fare per il team che dargli la caccia.
IMDB
Storyline
Following a ghost invasion of Manhattan, paranormal enthusiasts Erin Gilbert and Abby Yates, nuclear engineer Jillian Holtzmann, and subway worker Patty Tolan band together to stop the otherworldly threat.
DATA USCITA: 28 luglio 2016
GENERE: Azione , Commedia , Fantascienza
ANNO: 2016
REGIA: Paul Feig
ATTORI: Melissa McCarthy, Kristen Wiig, Leslie Jones, Kate McKinnon, Chris Hemsworth, Cecily Strong, Charles Dance, Michael Kenneth Williams, Andy Garcia, Matt Walsh
SCENEGGIATURA: Katie Dippold, Paul Feig
FOTOGRAFIA: Robert D. Yeoman
MONTAGGIO: Melissa Bretherton, Brent White
MUSICHE: Theodore Shapiro
PRODUZIONE: Sony Pictures Entertainment.
DISTRIBUZIONE: Warner Bros.
PAESE: USA
DURATA: 108 Min
FORMATO: 2D e 3D
Note: Reboot di Ghostbusters - Acchiappafantasmi (1984).


[ About file ]

Name: Ghostbusters.2016.iTALiAN.BDRiP.EXTENDED.XviD-HDi.avi
Date: Sat, 19 Nov 2016 05:26:15 +0100
Size: 2,514,755,584 bytes (2398.257813 MiB)
Note: Analysis not complete

[ Generic infos ]

Duration: 02:13:45 (8024.983317 s)
Container: AVI OpenDML indexes multi-chunks
AVI has index: Yes
Total tracks: 2
Track nr. 0: video
Track nr. 1: audio
ISFT: VirtualDubMod 1.5.10.2 (build 2540/release)
Junk: VirtualDubMod build 2540/release

[ Relevant data ]

Resolution: 720 x 304
Width: multiple of 16
Height: multiple of 16

[ Video track ]

FourCC: XVID/XVID
Resolution: 720 x 304
Frame aspect ratio: 45:19 = 2.368421 (~2.35:1)
Pixel aspect ratio: 1:1 = 1
Display aspect ratio: 45:19 = 2.368421 (~2.35:1)
Framerate: 23.976 fps
Total frames: 192,407
Frames RIFF AVI: 169,443
Stream size: 1,860,939,532 bytes (1774.730236 MiB)
Bitrate: 1855.146069 kbps
Qf: 0.353505
Key frames: 3,136 (0; 250; 500; 750; 893; … 192252)
Null frames: 0
Min key int: 1
Max key int: 250
Avg key int: 61.354273
Delay: 0 ms

[ Audio track ]

Audio tag: 0x2000 (AC3)
Channels: 6
Chunks: 192,397
Stream size: 641,998,665 bytes (612.257638 MiB)
Bitstream type (bs): AC3
Chunk-aligned (bs): No
Bitrate (bs): 640 kbps CBR
Sampling frequency (bs): 48000 Hz
Mode (bs): 3 front, 2 rear, 1 LFE
Preload: 480 ms
Max A/V diff: 498 ms
Delay: 0 ms

[ Video bitstream ]

Bitstream type: MPEG-4 Part 2
User data: XviD0067
QPel: No
GMC: No
Interlaced: No
Aspect ratio: Square pixels
Quant type: H.263

[ Profile compliancy ]

Selected profile: MTK PAL 6000
Resolution: Ok
Framerate: 23.976 <> 25


Please DO NOT MIRROR
If you'll find that my links are dead please let me know through the Private Messages.
&g... Here <<<
Subscribe to My Newsletter!