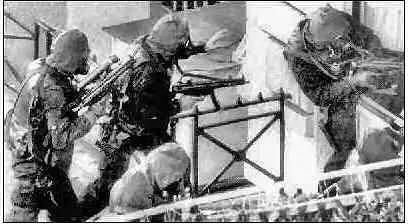 BBC ''SAS: Embassy Siege'' (2002.)
Video: XVID 624x408 25.00fps| Audio: MPEG Audio Layer 3 44100Hz stereo 127Kbps| 2parts| 01:28:00 total| 1,35GB| English
A 2002 BBC documentary on the siege contained the first interviews ever given by soldiers involved in the assault. Some interesting information was brought to light, including that the SAS was allegedly ordered (in not so many words) by Margaret Thatcher herself, to kill all of the terrorists regardless of the threat to the hostages. Robin Horsfall, one of SAS soldiers on the day, stated:
"The message was that we had to resolve the situation and there was to be no chance of failure, and… she did not want an ongoing problem. She didn't want there to be a problem beyond the Embassy…[we were]absolutely clear about it… They didn't want an ongoing problem, which we took to mean that they did not want anybody coming out alive."
This is interesting when one considers the account of Embassy staff member Ahmad Dadgar, who reported that he and other hostages persuaded two of the terrorists to surrender:
"Both were sitting there and put their hands on their own heads," he says. "Then several SAS men came in. And then they took the two terrorists and pushed them on the wall and shot them."
An inquest later found the SAS had used reasonable force, and on 4th February 1981 a Westminster Coroner's court ruled that the deaths of the five Iranian terrorists were justifiable homicides.
no psw