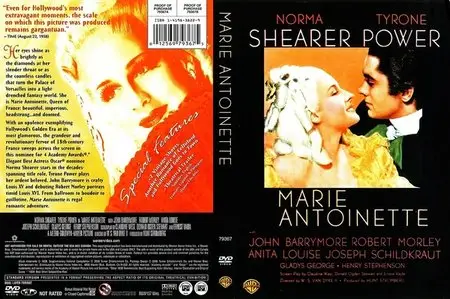 Marie Antoinette (1938)
A Film by W.S. Van Dyke
DVD9 | VIDEO_TS | NTSC 4:3 | Cover | 02:37:07 | 7,44 Gb
Audio: English AC3 2.0 @ 192 Kbps | Subs: English, Français, Español, Português
Genre: Drama, Classics
The life of Marie Antoinette (1755-1793) from betrothal and marriage in 1770 to her beheading. At first, she's a Hapsburg teenager isolated in France, living a virgin's life in the household of the Dauphin, a shy solitary man who would like to be a locksmith. Marie discovers high society, with the help of Orleans and her brothers-in-law. Her foolishness is at its height when she meets a Swedish count, Axel de Fersen. He helps her see her fecklessness. In the second half of the film, she avoids an annulment, becomes queen, bears children, and is a responsible ruler. The affair of the necklace and the general poverty of France feed revolution. She faces death with dignity.