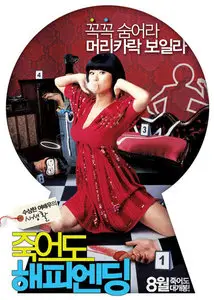 Happy killing – Kang Kyeong-hoon (2007)
Korean | Subtitle: English | 1:34:44 | 640 x 272 NTSC | RMVB | MP3 – 127 kbps | 700 MB
Genre: Comedy
Cast: Ye Ji-won, Im Won-hee, Jo Hee-bong, Park No-sik, Jeong Kyung-ho
"Happy Killing" aka Femme Fatale is a remake of the 1998 French comedy "Serial Lover." I haven't seen the original, so I can't not say how faithful "Happy Killing" stays to "Serial Lover." What I can say about "Happy Killing" is that the movie is stupid, gross, corny, and fun, while rolled all together in a feel good Christmas Holiday setting. The movie stars Ji-won Ye last seen in the hilarious and sorely under-appreciated "Old Miss Diary." A lot of the fun found in "Happy Killing" revolves around watching Ji-Won Ye run around in a tight form fitting dress and trying to maintain her wits, while a serious of lethal accidents occur on Christmas Eve.
Ji-Won Ye plays actress Ji-Won Ye (clever hunh?). She has just been awarded the Best Actress Award at the 79th Annual Kahn's Film Festival. Tomorrow morning she leaves for Kahn's with her manager Im (Won-hie Lim). She hopes to get a peaceful night of rest before the trip, but unfortunately things go seriously awry.
Four men arrive at Ji-Won's door almost simultaneously all ready to sweep her off of her feet. First to ring Ji-Won's doorbell is the Kyopo (ethnic Korean born overseas) named "Denny." Next to arrive is the stuffy intellectual scholar. Before either men can even sit down, the doorbell rings again and the mobster guy with the shiny Gold Rolex walks through Ji-Won's door. When the mobster sees the other two guys he becomes flabbergasted, but before he can even say anything, the door bell rings again. The director of Ji-Won's award winning movie arrives at her doorstep on a bicycle. All four guys then gather together for an evening of tense rivalry and one-upmanship.
To complicate matters even more, a string of burglaries have occurred in Ji-Won's neighborhood. The thief has been seen in a Santa Claus outfit while robbing the resident's home. The police are now staking out Ji-Won's apartment believing the Santa Claus dressed robber will strike her house next. It just so happens that the Santa Claus robber is already hiding in Ji-Won's apartment and things get infinitely more crazy when one of the four bachelors meets an unfortunate death.
As stated earlier the movie combines a heavy does of gross out humor as well as genuinely funny moments. Where the film went over the line for me was the gross out clogged toilet gag. That scene was beyond disgusting and just shouldn't have appeared in the film. If you think you can stomach that kind of scene (clogged toilet, diarrhea, and dead person) then you may like "Happy Killing" more than I did. Even though that scene temporarily killed all enthusiasm I had for "Happy Killing", the movie did eventually redeem itself with an absolutely hilarious scene involving two of the mobster's henchmen and an old antique jukebox. That scene was worth the price of admission alone and made the disgusting toilet scene almost forgettable.
There's plenty of noteworthy supporting role performances as well as cameo appearances to get excited about in "Happy Killing." One of my favorites would have been the appearance of Eun-ji Jo (Driving My Wife's Lover) as Ji-Won Ye's younger sister. Surprisingly for Eun-ji Jo, she wasn't cast as a prostitute in this film. Martial arts and stunt man extraordinaire Doo-hong Jung (The City of Violence) also makes a guest appearance as a movie star.
Hie-bong Jo played my favorite character out of four the bachelors (the mobster) and the gag with his bling bling watch cracked me up.
"Happy Killing" is a twisted comedy that you will enjoy if you can stomach a few utterly gross bathroom scenes and a couple of plot developments that defies logic. When its all said and done, I did find the movie to be moderately entertaining and able to dish out some laugh out loud moments. If you want a no-brainer slapstick comedy with appealing visuals than you should try to seek out "Happy Killing." Just keep your finger close to the remote during those gross bathroom scenes!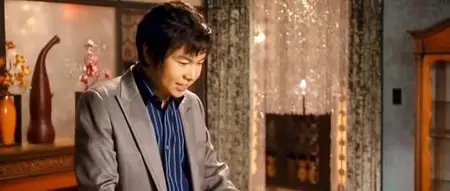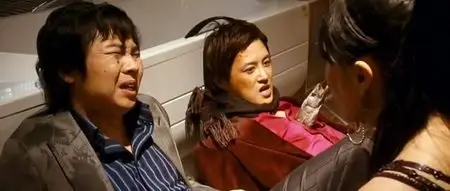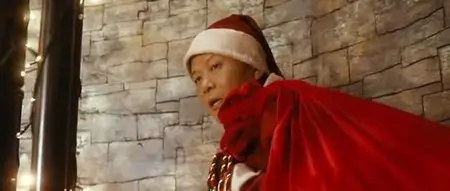 PW: malamute