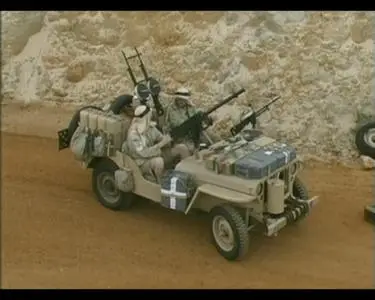 History Channel ''Greatest Raids: Desert Raiders''

They stalked the forces of the "Desert Fox," risking their lives on dangerous sabotage missions, collecting vital information about German troops and laying the groundwork for ambitious campaigns. In the North African theatre of World War II, the Special Air Service (SAS) of the British Army played a vital role in thwarting Nazi plans of continental domination.
Through interviews with veterans, commentary of military scholars, rare photos and footage and previously classified information, DESERT RAIDERS tells the stories of these small bands of brave men. Find out how isolated squads, relying primarily on heavily-armed jeeps for transport and firepower, managed to destroy hundreds of enemy aircraft, and examine intelligence reports produced by the Long Range Desert Group, which ensured that the Allies were often one step ahead of their counterparts.