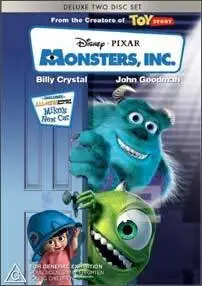 MonstersInc DVD-Rip (2001)
AVI DivX - Video: 135kbps 25f/s
Resolution: 544 x 400 Audio: MP3 128 Kbps
699 Mb 88 min English language
The story is based around two friends, Mike and Sulley, who work at Monsters, Inc. They scare children and capture their screams to be used as an energy source. Scaring is done on a "scaring floor" where doors are retrieved by swiping a key-card and then hooked up to the Monsters, Inc. equipment where the scarer walks through the door which acts as a portal to the childrens' bedrooms.
Mike is in charge of the paperwork and getting doors for Sulley, his scarer.
However, after Mike forgets the paperwork (again), Sulley retrieves his work for him, but finds a door in the empty scaring floor. He enters this door to investigate, but finds nothing. He returns to the scaring floor to finds a child has made the trip with him.
Now one thing to remember is that monsters are scared of children more than children of monsters. This child, now known as Boo, must be returned and it's up to Mike and Sulley to do this.
But the plot thickens when a fellow-scarer is seen to be cheating, but is actually up to more than meets the eye… umm, pardon the pun…