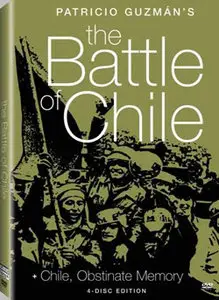 Patricio Guzmán - La batalla de Chile - The Battle of Chile (1974)
Spanish | Divx 1327 kbs | 190min. | 432 x 272 | MP3 128kbs | 2100MB
Subtitles: English
Genre: Documentary | Political
The Battle of Chile, which chronicles the tumultuous last months of Salvador Allende's Popular Unity government (1970-1973) in Chile, has been internationally hailed as a powerful historical portrait of the passions of a people divided and a nation on the brink of civil war.
"La Batalla de Chile" es un documental histórico que en las décadas de los 70 y 80 fue distribuido en 35 países del mundo. No es un filme de archivo: es un documento filmado en el momento mismo de producirse los hechos. Su autor y director trabajó con un equipo en medio de los acontecimientos. El material virgen (película de l6 MM en blanco y negro) fue una contribución del documentalista francés Chris Marker y el montaje se realizó gracias a la colaboración del Instituto de Cinematografía Cubano (ICAIC). Jorge Müller Silva (el cámara del filme) fue secuestrado por la policía militar de Pinochet en noviembre de 1974. Hasta hoy se desconoce su paradero. Es uno de los 3.000 desaparecidos que todavía hay en Chile. "La Batalla de Chile" ha sido objeto de la censura en Chile y nunca ha sido emitida por la televisión pública.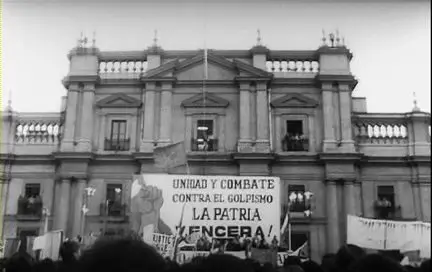 The Equipo Tercer Año, the Chilean filmmaking team led by Patricio Guzmán— including cameraman Jorge Müller Silva, chief of production Federico Elton, soundman Bernardo Menz, and assistant director Jose Pino—which photographed and assembled this three-part, four-and-a-half-hour epic documentary, offers the viewer the vivid
experience of being thrust into the midst of a society in crisis. The camera is seemingly everywhere, from intense debates in the halls of congress to the smoke and violence of street demonstrations, from the army's raids on industrial centers for "stockpiled weapons" to mass political rallies in the streets of Santiago, and from the unforgettable sequence in which a newsreel cameraman records his own death by gunfire to the devastating aerial bombardment of the presidential palace.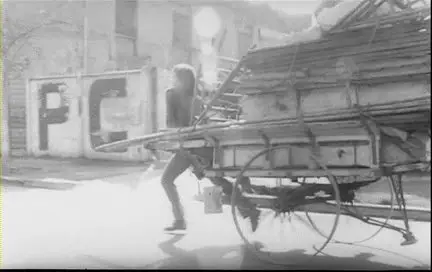 THE BATTLE OF CHILE received its world-premiere screenings at the Cannes International Film Festival—Part 1 in 1975, Part 2 in 1976, and Part 3 in 1979. The film was eventually screened in dozens of countries worldwide, won top awards at many film festivals, and was instantly hailed by critics as a classic of documentary filmmaking and
one of the most important historical films ever made.
Patricio Guzmán was born in 1941 in Santiago, Chile. As an adolescent in the late 1950's he became drawn to documentary filmmaking when he had the opportunity to see some of the films of Chris Marker, Frédéric Rossif and Louis Malle. He studied filmmaking at the Film Institute at the Catholic University of Chile and thereafter at the
Official School of Film in Madrid, where he obtained his degree in Film Direction in 1970.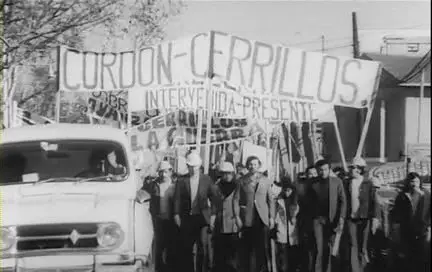 When he returned to Chile, in 1971, he directed his first documentary, The First Year (which covered the first twelve months of Salvador Allende's government), which was shown in commercial theaters that very year. The French documentary filmmaker Chris Marker, who was passing through Chile at the time, happened to see the film and
offered to help screen it in France.
Two years later, Chris Marker provided invaluable assistance again when he donated the raw stock necessary to commence filming The Battle of Chile. Filming on this project continued until the very day of the coup d'etat.
The day of the coup, Guzmán was imprisoned in Chile's National Stadium, where he remained for fifteen days. Later, after regaining his freedom, he left for Europe. Once there he began, with the help of Chris Marker, to find the economic means to complete the film. This time, saving grace came from the Cuban Film Institute (ICAIC), which
offered to support the editing and post-production. Guzmán flew to Havana and finished the film a few years later.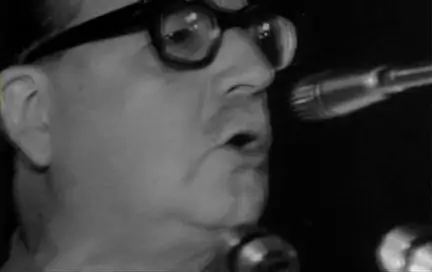 The Battle of Chile won six Grand Prizes in Europe and Latin America. It was shown in commercial theaters in thirty-five countries. The quarterly film magazine Cineaste declared it as "One of the ten best political films in the world."
Later, Guzmán continued to make documentaries (in France and Spain), many of them focusing on Chilean concerns. In 1987 he made In God's Name (Grand Prize, Florence 1987) about the Catholic Church's fight for human rights in Chile. From 1990 to 1992 he worked on The Southern Cross (Grand Prize, Marseille 1992) about liberation theology
and popular religion in Latin America. In 1995, Town in Stasis focused on the historical memory of a Mexican village.
In 1997, Chile, Obstinate Memory looked into collective political amnesia in Chile. 1999 brought Robinson Crusoe Island about the remote Chilean island of the same name.
The Pinochet Case in 2001, examined the case brought against General Augusto Pinochet (Grand Prize, Marseille 2001). In 2002, he completed Madrid, a look at Spain's capital.
Salvador Allende, which Icarus Films released in September 2006, is Guzman's acclaimed, award-winning film that tells Allende's story, from his youth in Valparaiso and his early presidential campaigns, to his bold nationalist reforms and his death during the violent rightist coup of September 11, 1973.
Guzmán's newest film, NOSTALGIA FOR THE LIGHT, is perhaps the most personal film of his career, one full of poetry, philosophical and personal reflections on the passage of time. In the vast Atacama Desert in northern Chile there are six major international observatories, the most sophisticated and powerful on the planet. There, scientists around the world seek out the oldest light in the universe in order hopefully to learn more about the future of Earth. A few kilometers away from these telescopes, in the same desert, the relatives of Pinochet's victims seek the bodies of their "disappeared" family members, who have been buried in mass graves for over thirty years. They are engaged in a personal search for a past that remains uncertain in order to be able to mourn their loss and to build the future of their children. The film unites these two subjects, and step by step, reveals their inner connection.
Guzmán has been a professor of documentary film at various schools in Europe and Latin America. He has also been a jury member in many acclaimed festivals in his field.
Since 1997, he has been the Director of the Santiago Documentary Film Festival, which was founded with the help of a group of young filmmakers. Patricio Guzmán lives in Paris with Renate Sachse, who collaborates on the scripts for
his films. He has two daughters, Andrea and Camila, who are also filmmakers and frequently work on his projects. Icarus Films distributes his daughter Camila Guzmán Urzúa's The Sugar Curtain.