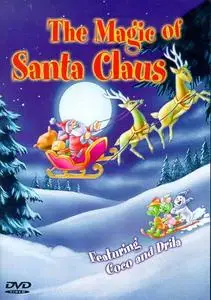 AVI DivX video 169kbps 512x368 MP3 128kbps
499MB 50min english language
It is Christmas time for Coco and Drila and the rest of the gang. They are very excited and getting everything ready to celebrate. Christmas is a time for great adventures, but little do they know that this Christmas has in store for them the greatest adventure of all: they will experience the special magic of Christmas.
Blanchet, Drila's grandfather and the cobbler of the village, asks Coco and Drila to make a special delivery. They are to go deep into the forest and find the sledge pulled by Rudolph, the red-nosed reindeer. They will be carrying with them a pair of boots and a magic sack. This magic sack contains all the toys that exist in the world! Coco and Drila's mission is to hand the pair of boots and the magic sack to Rudolph, who in turn will take them to Santa Claus.
Our young friends cannot linger on their way because there is only one day left before Santa Claus starts his delivery. But on their way to accomplish their mission, Coco and Drila have amazing adventures. An evil woman, who is an enemy of Santa Claus and the spirit of Christmas, kidnaps the children and though they manage to escape, they are late for their delivery. Of course, our friends do not give in, even if new obstacles appear on their way. They know that the happiness of all the children in the world depends on them and somehow, the magic spirit of Christmas will lead and protect our little heroes through all their adventures.