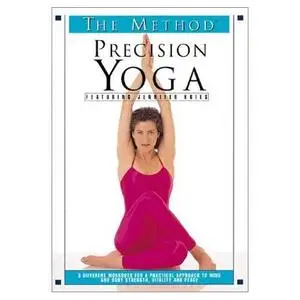 The Method Precision Yoga
AVI DivX | Video: 187 Kbps | 544 x 400 | MP3 128 Kbps
699 MB | 63 min | English language
From the minds behind the popular fitness program THE METHOD and the teachings of Joseph Pilates comes PRECISION YOGA, featuring three different workouts offering a practical approach to mind and body strength, vitality, and relaxation.
The Method Precision Yoga is made up of a combination of movements and poses selected from today's most popular forms and styles of Yoga. This DVD offers the practical approach to the learning and practice of this ancient art of mind-body strength and focus. The program is divided into three twenty minute segments.
Segement 1 - Strength & Vitality
Strengthens and tones major muscle groups through simple, yet challenging, poses that concentrate on developing abdominal strength as the catalyst to overall strength and vitality.
Segement 2 - Flexibility & Range Of Movement
Concentrates on movements that release tension from major muscles and joints such as those of the hip, shoulders, pelvis, and the spine.
Segement 3 - Serenity & Peace Of Mind
Teaches you how to connect and relax mind and body through simple moves and breathing exercises designed to control and relieve stress or to induce sleep during times of insomnia.