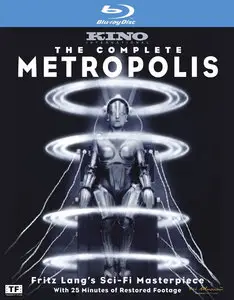 Metropolis (1927) (2010 restored edition)
720p BluRay Rip | German, English (intertitles) | avi | 1280x960 | Video: XviD @ 2798 Kbps | Audio: AC-3 @ 640 Kbps | 151 mins | 3.69 GB
Directors: Fritz Lang | Writers: Thea von Harbou, Fritz Lang | Stars: Brigitte Helm, Alfred Abel, Gustav Fröhlich
IMDb Top 250 #95 | 2 wins & 2 nominations
Genre: Classics, Sci-Fi
Sometime in the future, the city of Metropolis is home to a Utopian society where its wealthy residents live a carefree life. One of those is Freder Fredersen. One day, he spots a beautiful woman with a group of children, she and the children who quickly disappear. Trying to follow her, he, oblivious to such, is horrified to find an underground world of workers, apparently who run the machinery which keeps the above ground Utopian world functioning. One of the few people above ground who knows about the world below is Freder's father, Joh Fredersen, who is the founder and master of Metropolis. Freder learns that the woman is Maria, who espouses the need to join the "hands" - the workers - to the "head" - those in power above - by a mediator or the "heart". Freder wants to help the plight of the workers in the want for a better life. But when Joh learns of what Maria is espousing and that Freder is joining their cause, Joh, with the assistance of an old colleague and now nemesis named Rotwang, an inventor, works toward quashing a supposed uprising, with Maria as the center of their plan. However, Joh is unaware that Rotwang has his own agenda. But if any of these plans includes the shut down of the machines, total anarchy could break loose both above ground and below.
Metropolis is a 1927 German expressionist film in the science-fiction genre directed by Fritz Lang. Produced in Germany during a stable period of the Weimar Republic, Metropolis is set in a futuristic urban dystopia and makes use of this context to explore the social crisis between workers and owners in capitalism. The film was produced in the Babelsberg Studios by Universum Film A.G. (UFA). The most expensive silent film ever made, it cost approximately 5 million Reichsmark.
Metropolis was cut substantially after its German premiere, and much footage was lost over the passage of successive decades. There have been several efforts to restore it, as well as discoveries of previously lost footage. A 2001 reconstruction of Metropolis, shown at the Berlin Film Festival, was inscribed on UNESCO's Memory of the World Register in that same year. In 2008, a copy of the film 30 minutes longer than any other known surviving copy was located in Argentina. After a long period of restoration in Germany, the restored film was shown publicly for the first time simultaneously at Berlin and Frankfurt on February 12, 2010. The event of the Friedrichstadtpalast was shown live on a screen at the Brandenburg Gate as well as on TV on ARTE. This version was also shown in New York at the Ziegfeld Theater in the last two weeks of October 2010.
IMDB info
Screenshots (click to enlarge to original size):