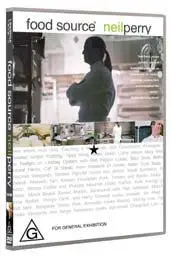 Neil Perry - Food Source
AVI DivX | Video: 170 Kbps, 656 x 368 | MP3 128 Kbps
6 x 279 MB each episode 27min | English language
An insider's guide to the best food in Australia, Food Source Neil Perry features leading Australian chefs, top food and wine producers and over 20 recipes. Starring internationally-renowned, multi-award winning chef Neil Perry, these six episodes take us on a gastronomic journey with Neil demonstrating his simple and mouth watering dishes. Spectacular locations, inspired cinematography, easy-to-follow recipes and fascinating characters combine to make these episodes a celebration of great Australian food.
Episodes:
One
Neil Perry cooks fried whole mud crab at Rockpool; catching mud crabs; a visit to Melbourne's Flower Drum restaurant; cooking Pineapple and Candied Ginger Pudding; Tippy Heng cooks Green Curry; a visit to Mount Mary Vineyard; Twilight on Lindsay restaurant in Darwin.
Two
Fried Oysters with Red Capsicum Coulis; Salty Seas; Bethungra Park Natural Farms; Café Di Stasio Melbourne; Meet Masseria Di Stasio; Italian Style Zucchini and Parmesan Soup; Freycinet Vineyards; Damien Pignolet cooks two dishes.
Three
Steak Sandwich; Pyengana Cheese; Rhubarb Tart; Kakadu Floodplain Pork; Simple Tomato and Bacon Sauce with Penne; Vittoria Coffee; Philippe Mouchel cooks Truffles.
Four
Kylie Kwong cooks lobster; Mindil Beach Sunset Market; Barramundi with Thai marinade; Moorilla Estate Hobart; growing Horseradish on Thorpe Farm; Harry Schmidt cooks mussels.
Five
Stir Fried Pork with Chilli and Mint; Bangalow Sweet Pork; Armando Percuoco cooks Risotto; Murray Cod; Pipers Brook Vineyards; Serge Dansereau cooks Barramundi.
Six
Chargrilled Loin of Illabo Lamb; Illabo Milk fed Lamb; Jeremy Strode cooks Pheasant; Earl Carter from Luxe; Starlight Children's Foundation dinner for 500 guests with 5 guest chefs; Rice Pudding with Gooseberries; Andrew Hood Wines.