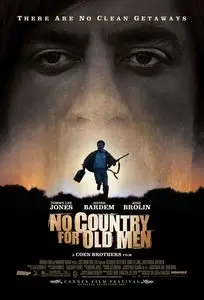 No Country for Old Men (2007)
720p BluRay Rip | English | mkv | 1280x544 | Video: AVC @ 4481 Kbps | Audio: AC-3 @ 640 Kbps | 122 mins | 4.42 GB
Directors: Joel Coen, Ethan Coen | Writers: Cormac McCarthy, Joel Coen, Ethan Coen
Stars: Tommy Lee Jones, Javier Bardem, Josh Brolin, Kelly Macdonald | IMDb Top 250 #120 | Won 4 Oscars. Another 94 wins & 46 nominations
Genre: Crime / Drama / Thriller
In rural Texas, welder and hunter Llewelyn Moss discovers the remains of several drug runners who have all killed each other in an exchange gone violently wrong. Rather than report the discovery to the police, Moss decides to simply take the two million dollars present for himself. This puts the psychopathic killer, Anton Chigurh, on his trail as he dispassionately murders nearly every rival, bystander and even employer in his pursuit of his quarry and the money. As Moss desperately attempts to keep one step ahead, the blood from this hunt begins to flow behind him with relentlessly growing intensity as Chigurh closes in. Meanwhile, the laconic Sherrif Ed Tom Bell blithely oversees the investigation even as he struggles to face the sheer enormity of the crimes he is attempting to thwart.
No Country for Old Men is a 2007 American crime thriller directed by Joel Coen and Ethan Coen, and starring Tommy Lee Jones, Javier Bardem, and Josh Brolin. The film was adapted from the Cormac McCarthy novel of the same name, No Country for Old Men tells the story of an ordinary man to whom chance delivers a fortune that is not his, and the ensuing cat-and-mouse drama, as three men crisscross each other's paths in the desert landscape of 1980 West Texas. The film examines the themes of fate and circumstance the Coen brothers have previously explored in
Blood Simple
and
Fargo
.
No Country for Old Men has been highly praised by critics. Roger Ebert of the Chicago Sun-Times called it "as good a film as the Coen brothers…have ever made." The Guardian journalist John Patterson said the film proved "that the Coens' technical abilities, and their feel for a landscape-based Western classicism reminiscent of Anthony Mann and Sam Peckinpah, are matched by few living directors." The film was honored with numerous awards, garnering three British Academy of Film awards, two Golden Globes, and four Academy Awards for Best Picture, Best Director (Joel and Ethan Coen), Best Adapted Screenplay and Best Supporting Actor (Javier Bardem).
IMDB info
Screenshots (click to enlarge to original size):