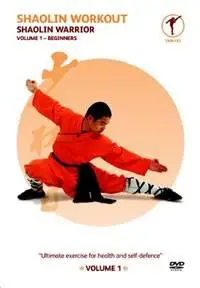 Shaolin Warrior Workout - Vol.1 - Beginners
DVDrip | AVI | DivX 4 | 646 MB | 576x448 | MP3 160 Kbps | 48 KHz
Now everyone can be Bruce Lee !
An all new Shaolin Workout DVD from Shifu (Master) Yan Lei uses the exercises taught to novices at the Shaolin Temple in China, to show you how to tone your body, increase fitness, build flexibility and focus your mind.
The Shaolin techniques have been used for centuries to attain the highest mental and physical strength. Originally developed to prepare for battle they are still relevant today in our fight to balance busy lives, combat stress and maintain a healthy mind and body.
In addition to the physical benefits, students of the Shaolin disciplines of Qi Gong and Kung Fu also benefit from increased energy levels, concentration and confidence. The exercises are widely practiced throughout Southeast Asia and work with the body's innate harmony and energy for greater wellbeing.
Shifu Yan Lei is a 34th generation disciple of the Shaolin Temple in Henan, China. He has been studying Shaolin martial arts for over twenty years, and is an expert in Shaolin Qi Gong and Kung Fu. He currently runs Shaolin Brighton, and delivers workshops nationwide.
The Shaolin Warrior range of DVDs are designed to guide you through the authentic Shaolin teachings of Qi Gong and Kung Fu. Offering a graded teaching system with exercises and practices direct from the Shaolin Temple in China, Shifu Yan Lei takes you on a journey towards spiritual and physical health and well-being.
The Shaolin Workout DVDs are accessible to everyone regardless of age or fitness level and provide three levels: Beginners (Vol.1), Intermediate (Vol.2) and Advanced (Vol.3). No previous experience of martial arts is needed and you work at your own pace to increase your fitness and develop your technique.
Shaolin Workout retails at £14.99 (RRP) and is available on the high street and online from shifuyanlei.co.uk.
The DVD range includes:
• Shaolin Warrior: Shaolin Workout Vols. 1-3
• Shaolin Warrior: Qi Gong Vols. 1-3
• Shaolin Warrior: Rou Quan (Soft Fist)
• Shaolin Warrior: Kung Fu Cha'an
• Shaolin Warrior: Kung Fu Journey
• Shaolin Warrior: Fighting Punches & Kicks Vol. 1
The Shaolin Energy Brush (£24.99) is available exclusively through shifuyanlei.co.uk. This massage brush has 108 bamboo rods and is designed for muscle relief and stimulation of the lymphatic system. The brush helps to relieve stress and tension, unblock acupuncture channels and is particularly effective after Qi Gong or Yoga exercises.
http://rapidshare.com/files/101428803/Shaolin_Warrior_Workout_-_Vol.1_-_Beginners_-_DVDrip.part1.rar
http://rapidshare.com/files/101432239/Shaolin_Warrior_Workout_-_Vol.1_-_Beginners_-_DVDrip.part2.rar
http://rapidshare.com/files/101434762/Shaolin_Warrior_Workout_-_Vol.1_-_Beginners_-_DVDrip.part3.rar
http://rapidshare.com/files/101437710/Shaolin_Warrior_Workout_-_Vol.1_-_Beginners_-_DVDrip.part4.rar
http://rapidshare.com/files/101440805/Shaolin_Warrior_Workout_-_Vol.1_-_Beginners_-_DVDrip.part5.rar
http://rapidshare.com/files/101451542/Shaolin_Warrior_Workout_-_Vol.1_-_Beginners_-_DVDrip.part6.rar
http://rapidshare.com/files/101454030/Shaolin_Warrior_Workout_-_Vol.1_-_Beginners_-_DVDrip.part7.rar