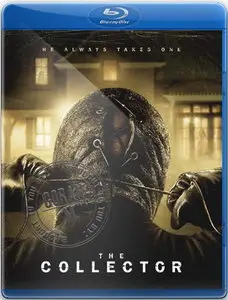 The Collector (2009)
1080p by AMIABLE | English | 1h 29min | 6.56 GB | 1920x800 | x264 - 8925kbps | DTS - 1510kbps
Genre: Crime | Horror | Thriller
IMDB rating: 6.2/10 (2,351 votes)
Directed by: Marcus Dunstan
Starring: Madeline Zima, Josh Stewart, Andrea Roth, Daniella Alonso
For handyman and ex-con Arkin, a quiet home and a family on vacation is an "opportunity". For inside the house lies a jeweler's safe, and inside the safe is a gem – his only hope for repaying a debt to his ex-wife and keeping what's left of his family intact. From Marcus Dunstan and Patrick Melton, the twisted minds behind "Saw IV", "V" and the upcoming "Saw VI", "The Collector" emerges as a real-time game of cat-and-mouse, melding primal horror with suspense thriller. The film stars Josh Stewart, Daniella Alonso, Michael Reilly Burke, Andrea Roth, Madeline Zima, Karley Scott-Collins, Robert Wisdom and Juan Fernandez.