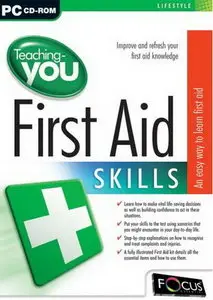 Teaching-You First Aid Skills | 279 Mb

A valuable training aid for the whole family.
Wherever we are, and whatever we do, accidents and emergencies are a part of our lives. Would you know what to do if you were first on the scene? By knowing how to make essential first aid decisions, you can make sure that you are prepared to act in an emergency. Using simulations of real-life events where your choices and decisions affect the outcome, Teaching-you First Aid Skills helps you to acquire those skills, which we all need to learn, but for which we have never found the time.
Hundreds of photographs, animations, videos and diagrams provide clear step by step explanations on how to recognise and treat common complaints like headaches to major, potentially life threatening conditions such as choking and shock, equipping you with vital skills that one day could help you save a life.
Learn how to recognise and treat injuries and illnesses
* Airway and Breathing - choking, blocked airway, drowning, hyperventilation, croup and inhalation.
* Fractures - open, closed, spinal, ribcage and pelvic.
* Resuscitation - adult, baby and child.
* Common Complaints - fever, headache, diarrhoea and vomiting.
* Head & Brain - concussion, compression and stroke.
* Bites & Stings - animal bites, insect stings, marine life and snake bites.
* Soft Tissue Injuries - sprains, strains and dislocations.
* Heart - heart attack, angina and cardiac arrest.
* Attacks and Seizures - asthma, diabetes, epilepsy and anaphylactic shock.
* Foreign Bodies - in the skin, children and in the eye.
* Shock - shock and fainting.
* Burns & Scalds - minor and major.
* Overexposure - heat stroke, heat exhaustion, hypothermia and frostbite.
* Bleeding - bruises, severe internal, severe external and cuts.
* Poisoning - corrosive and non-corrosive.
Download:
http://rapidshare.com/files/36...You.First.Aid.Skills.part1.rar
http://rapidshare.com/files/36...You.First.Aid.Skills.part2.rar
http://rapidshare.com/files/36...You.First.Aid.Skills.part3.rar