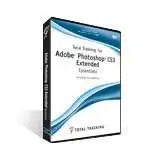 Total Training for Adobe Photoshop CS3: Essentials
2 DVDs | 2.46 + 2.31 Gb | RS.com
Platform: Windows & MAC OS. Level: Beginner to Intermediate.
Chad Perkins is an Adobe Certified Instructor in Photoshop. He has been teaching graphics applications at advanced levels for five years and has a very charismatic and humorous approach to teaching that keeps students entertained and enlightened. Chad served for over two years as the Digital 3D and Animation Specialist at a leading lenticular art creation facility in Southern California, where he produced finished art for Warner Brothers, Paramount, and Disney, among others.
Platform: Windows & MAC OS
Format: DVD-ROM
Level: Beginner to Intermediate
Description: Learn how to use Adobe Photoshop CS3 proficiently from the comfort of your own home or office. Lessons are done at your own pace so you can start and stop the video segments at any time. From the basics of selecting colors and elements in photos, to the magic of special effects and layering, these Photoshop CS3 tutorials cover what you need to know to make your images dazzle.
Running Time: 8 Hrs, 2 DVDs
Project Files: Included
Note: These tutorials cover topics that are relevant to both Photoshop CS3 & Photoshop CS3 Extended.
Highlights
* Open your eyes to the wonders of Photoshop CS3: image manipulation, design layouts, and more.
* Sharpen your Photoshop skills with document basics and keyboard shortcuts for Mac & PC.
* Understand the importance of using layers with every project.
* Save time with automation tools for saving and loading, cropping, PhotoMerge, and web galleries.
Home Page:
h**p://w*w.totaltraining.com/prod/outlines/adobe/photoshopcs3e_ess.asp
Download the course outline in pdf:
h**p://w*w.totaltraining.com/prod/outlines/pdf/photoshopcs3e_ess_qrg.pdf
Download links (1.2 Mb, RS.com)
:
http://tinyurl.com/28fkqn
Pass: our usual default one (
www.A…H….ru
)
The download links are not mine but I thought this
Essentials
course goes nicely with the
Advanced
course posted by
philipmorris
at AH
here
. Thanks to the original poster. I couldnt find any previous posts to this Essentials course here at AH, so here you are!
If you like it, buy it!
Mirrors welcome.