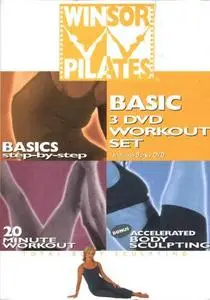 Winsor Pilates Step by Step Workout and Accelerated Body Sculpting
AVI DivX | MP3 128 Kbps | English language
Video1: 164 Kbps, 560 x 400 | 299 MB | 31 min
Video2: 161 Kbps, 560 x 400 | 499 MB | 53 min
Basics Step-by-Step (10min) Learn the seven core exercises which are the foundation of all Pilates workouts plus 20 Minute Workout A fast, fun, no-nonsense program designed to Sculpt Your Body Slim in just 20 minutes. Winsor Pilates Accelerated Body Sculpting is a complete total body workout designed to work every area of the body. Shrink and firm your buns, hips and thighs. Thighten and flatten your tummy by working your center or "powerhouse", increase energy, flexibility and improve overall health. Plus, sculpt long lean muscles that will define your body.