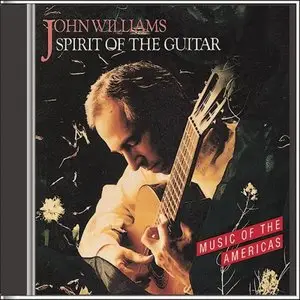 John Williams - "Spirit of the Guitar: Music of the Americas" - 1990
FLAC | Total: 195 Mb | Ripped with Easy CD-DA Extractor| Compression Level:0 | No Cue, No Logs | Cover included | Rapidshare
Genre: Instrumental, Latin | Label: Sony
John Williams records another great CD. From the thrilling opening, "Sunburst" by Andrew York, through Mangore', Brouwer, and Charlie Byrd, the music is very well-chosen and impeccably performed. Bursting with energy, South American dance rhythms or slow and melacholy, these are great pieces.
This music goes in a completely different direction from, say, Bach or Scarlatti or Albeniz or Tarrega. It's the American sound in many of its guises. Wonderful music. One of my favorite classical guitar CD's.
The first 11 recordings from this CD are among my favorite of all guitar recordings, epecially "Sunburst," "Aconquija," "Verano Porteno," "Natalia," and "Cueca." Both the performances and the recording quality are outstanding.