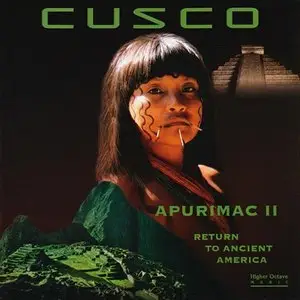 Cusco - "Apurimac Vol. 2: Return to Ancient America" (1994)
MP3: 320 Kbps (CBR) | 115 Mb + Covers | Rapidshare
New Age | Higher Octave Music
Cusco, under the watchful direction of Michael Holm, has once again managed to adopt traditional world music melodies and instrumentation into a Western Eurojazz sound with Apurimac II. Taking the music of the Andes, with its strong rhythms and ethereal flute sound, Holm has added the music of modern technology. The result is a near full orchestra of wonderful music with new depth and complexity without betraying its native roots, where Holm had found his inspiration.
Cusco's trademark sound at its best–haunting flutes, playful pan pipes, traditional rhythms and melodic arrangements. Contains the great track "Montezuma." Highly recommended!
Cusco reveals more mysteries of the Inca culture with their interpretative music on this highly creative CD. Their imagination soars into inner space - opening up new avenues of listening pleasure. It contains fluid melodies and natural rhythms that bring to life the 'secrets' of the Inca culture. Experience the musical heights of the Andes mountains, glide on the wings of the condor and feel the soft fur of the lamas and alpacas … This music is joyous and cheerful. Cusco creates New Age music which brings to life the mysteries of the ancient past … mesmerizing the listener.
Product Details
* Audio CD (September 2, 1994)
* Original Release Date: 1994
* Number of Discs: 1
* Label: Higher Octave Music
* ASIN: B000003Z0S
Tracks:
1. Montezuma
2. Quetzal's Feather
3. Dance of the Sun Priest
4. Tula
5. Yucatan
6. Xul-Kan, King of Palenque
7. Maya Temple
8. Mexica
9. Goddess of the Moon
10. Temple of Remembrance