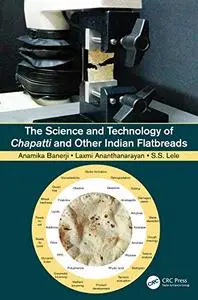 The Science and Technology of Chapatti and Other Indian Flatbreads by Anamika Banerji, Laxmi Ananthanarayan, Smita S. Lele
2020 | ISBN: 0367462095 | English | 178 pages | EPUB | 11 MB
Flatbreads form the heart and soul of a traditional meal in several parts of India. Depending on geographical location, ingredients used and method of preparation there are many varieties of flatbreads. Popular Indians flatbreads include chapatti, paratha/parotta, naan, tandoori roti, kulcha, roomali roti, bhakri, thepla and puranpoli. Chapatti, the Indian counterpart of the western pan bread, is consumed widely as a staple to scoop up curries in Indian meals. Since the last few decades, researchers have turned their attention towards Indian flatbreads and have initiated studies on several aspects like nutrition, quality, staling and preservation.
The changing dynamics of flatbread preparation and preservation have inspired many research studies. The Science and Technology of Chapatti and Other Indian Flatbreads collates available knowledge to date in a manner that is useful to students, researchers, food industry professionals, and food-based entrepreneurs alike.
Key Features:
Illustrated with multiple photographs of different types of Indian flatbreads, steps in preparation of chapatti, analytical instruments used, changes in dough/ chapatti appearance due to browning
Includes multiple photographs of different flatbreads in varying stages, from creation to expiration
Explores the changing dynamics of flatbread preparation and preservation
Discusses the role of flour constituents and added ingredients on end product quality and the need to develop healthier variants
With its nine chapters, the book takes the reader through a journey in which the gradual evolution of the preparation and consumption of chapatti and other Indian flatbreads has been explained, emphasizing the need for science and technology to support large scale production to keep up with the growing demand for ready- to- cook and ready-to-eat flatbreads.
The book, written in simple but scientific language, covers different aspects ranging from introduction and preparation of flatbreads, the role of individual ingredients, particularly wheat variety and wheat composition, milling technique, dough rheology, quality characteristics of flatbreads and their measurement, to topics including staling and preservation of chapatti/flatbreads, nutritional and quality improvement, mechanization of flatbread production and scope for developing novel flour/ flatbread formulations.
The authors, with their wide experience in flatbread science have attempted to capture the scientific and technological aspects of chapatti/flatbreads in depth, right from basic concepts to technological advances, supported by exhaustive compilation of scientific literature.