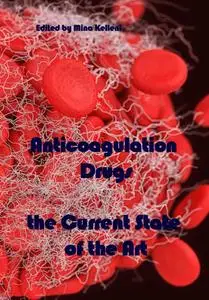 "Anticoagulation Drugs: the Current State of the Art" ed. by Mina Kelleni
ITExLi | 2020 | ISBN: 1789850762 9781789850765 1789850754 9781789850758 1838801456 9781838801458 | 84 pages | PDF | 7 MB
In this book, you'll find the latest updates about the current use of anticoagulants in medical practice, you'll find important details that will help you to understand what patients receiving anticoagulants know about these drugs and how to improve their quality of life.
This book includes clinical pharmacotherapy, laboratory monitoring, and antidotes. You'll also find a special focus on heparin-induced thrombocytopenia, including various mechanisms and presentations.
Contents
1.Introductory Chapter: Anticoagulant Therapy in Clinical Practice - Challenges and Wishes
2.Pharmacological Review of Anticoagulants
3.Update on Mechanisms, Pathogenicity, Heterogeneity of Presentation, and Laboratory Diagnosis of Heparin-Induced Thrombocytopenia
4.Examination of Laboratory for Monitoring Heparin Anticoagulant Therapy
5.Knowledge, Adherence, and Quality of Life among Warfarin Therapy Users
1st true PDF with TOC BookMarkLinks