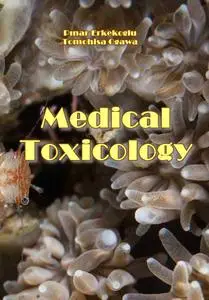 "Medical Toxicology" ed. by Pınar Erkekoglu, Tomohisa Ogawa
ITexLi | 2021 | ISBN: 1838802789 9781838802783 1838802770 9781838802776 1839691557 9781839691553 | 321 pages | PDF | 19 MB
This book focuses on poisonings with drugs, venoms, toxins, interaction in clinics, antidotes, and forensics. It provides qualified scientific knowledge on different aspects of medical toxicology, drug and substance abuse, clinical interactions between drugs and herbs, antidotes, antidote networks, and forensic toxicology.
Medical toxicology is a sub-branch of toxicology concerned with the diagnosis, management, and prevention of poisoning and other adverse effects of drugs, cosmetics, personal care products, occupational and environmental toxicants, and biological agents. Poisoning with drugs, herbs, venoms, and toxins is a significant global public health problem. Medical toxicologists are involved in the assessment and treatment of acute or chronic poisoning, substance abuse, adverse drug reactions, drug overdoses, envenomation, industrial accidents, and other chemical exposures. As such, there is a pressing need for safe and specific antidotes, as many antidotes currently in use have a relatively low margin of safety or therapeutic index.
Contents
1. Introductory Chapter: Medical Toxicology
2. Venomics Study of Protobothrops flavoviridis Snake: How Venom Proteins Have Evolved and Diversified?
3. Snakebite Therapeutics Based on Endogenous Inhibitors from Vipers
4. The Effects of Snake Venom (Bitis arietans) on Embryonic Development
5. Toxicosis of Snake, Scorpion, Honeybee, Spider, and Wasp Venoms: Part 1
6. Toxicosis of Snake, Scorpion, Honeybee, Spider, and Wasp Venoms: Part 2
7. Scorpion Toxins from Buthus martensii Karsch (BmK) as Potential Therapeutic Agents for Neurological Disorders: State of the Art and Beyond
8. Mechanisms of Cyanotoxin Toxicity—Carcinogenicity, Anticancer Potential, and Clinical Toxicology
9. Effects of Atypical Neurotoxins on the Developing Fetal Brain
10. Toxicity Potential of Cyanogenic Glycosides in Edible Plants
11. Intoxication by Harmel
12. Interaction between Pyridostigmine Bromide and Oxidative Stress
13. The Clinical Importance of Herb-Drug Interactions and Toxicological Risks of Plants and Herbal Products
14. Analgesic Poisoning
15. Forensic Chemistry and Toxicology
16. Detoxification of Drug and Substance Abuse
17. Antidotes Network
1st true PDF with TOC BookMarkLinks
More :
You find here