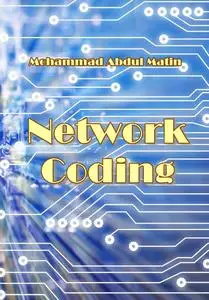 "Network Coding" ed. by Mohammad Abdul Matin
ITExLi | 2018 | ISBN: 1789236150 9781789236156 1789236142 9781789236149 183881664X 9781838816643 | 73 pages | PDF | 8 MB
This book is intended to provide the current R&D trends in coding, detection, and signal processing applied to communications in wireless and wired networks.
Network coding is an elegant and novel technique that allows nodes in the network to perform coding operations at the packet level. In particular, network coding represents a powerful approach to protect data from losses due to link disconnections and can also exploit the combination of multiple links to deliver data to users with the possibility of recoding at intermediate nodes. This phenomenon will reduce information congestion at some nodes or links, which will improve the network information flow such as to increase network throughput and robustness.
Contents
1. Introductory Chapter: Network Coding
2. Digital All-Optical Physical-Layer Network Coding
3. Network Coding for Distributed Antenna Systems
4. Network Coding-Based Next-Generation IoT for Industry 4.0
5. Efficient Frontier and Benchmarking Models for Energy Multicast in Wireless Network Coding
1st true PDF with TOC BookMarkLinks
More :
You find here