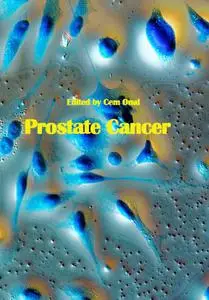 "Prostate Cancer" ed. by Cem Onal
ITexLi | 2018 | ISBN: 1789840007 9781789840001 1789239990 9781789239997 1838813659 9781838813659 | 77 pages | PDF | 5 MB
This publication aims at providing a thorough overview of the latest research efforts by international authors and opens new possible research paths for further novel developments.
This volume is a collection of reviewed and relevant research chapters, offering a comprehensive overview of recent developments in the field of urologic oncology. The book comprises single chapters authored by various researchers and edited by an expert active in the urologic oncology research area. All chapters are complete in themselves but united under a common research study topic.
Contents
1.Genetics in the Prostate Cancer
2.Advances in Medical Imaging Technology for Accurate Detection of Prostate Cancer
3.Advanced Radiation Treatment Planning of Prostate Cancer
4.Role of miR-2909 in Prostate Carcinogenesis
5.Development of Oncolytic Adenoviruses for the Management of Prostate Cancer
1st true PDF with TOC BookMarkLinks