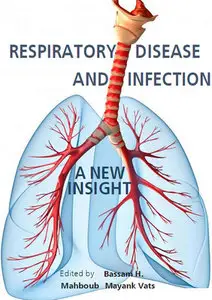 "Respiratory Disease and Infection: A New Insight" ed. by Bassam H. Mahboub
InTeOpP | 2013 | ISBN: 9535109686 9789535109686 | 260 pages | PDF | 22 MB
This book has been designed to deliver the detailed knowledge about the various respiratory infections including viral, bacterial, and helminthic infections.
Respiratory Diseases are an important contributor to the morbidity and mortality of mankind since antiquity and its prevalence is on rise in with new disease are being recognized, however little importance has been given to the respiratory disease due to low level of awareness in physicians and general public.
Contents
Preface
Section 1 Viral Infections
1 Pathogenesis of Viral Respiratory Infection
2 Virology and Molecular Epidemiology of Respiratory Syncytial Virus (RSV)
3 Structural and Functional Aspects of Viroporins in Human Respiratory Viruses: Respiratory Syncytial Virus and Coronaviruses
Section 2 Bacterial Infections
4 Biophysical Effects on Chronic Rhinosinusitis Bacterial Biofilms
5 CIinical Diagnosis and Severity Assessment in Dlmmunocompetent Adult Patients with Community-Acquired Pneumonia
6 Pneumonia in Children
7 Cystic Fibrosis Pulmonary Exacerbation - Natural History, Causative Factors and Management
Section 3 Helminthic Infections of Lung
8 Helminthic Infections and Asthma: Still a Challenge for Developing Countries
Section 4 Smoking Cessation and Lung
9 Psychological Approaches to Increase Tobacco Abstinence in Patients with Chronic Obstructive Pulmonary Disease: A Review
with TOC BookMarkLinks