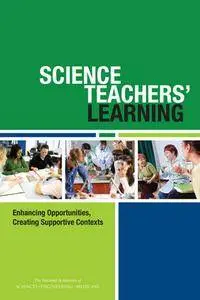 "Science Teachers' Learning: Enhancing Opportunities, Creating Supportive Contexts" ed. by Suzanne Wilson, Heidi Schweingruber, and Natalie Nielsen
National Academies of Sciences, Engineering, and Medicine; Division of Behavioral and Social Sciences and Education; Board on Science Education
NAS Press | 2015 | ISBN: 0309380189 9780309380188 | 257 pages | PDF | 8 MB
This book provides guidance for schools and districts on how best to support teachers' learning and how to implement successful programs for professional development. This volume makes actionable recommendations for science teachers' learning that take a broad view of what is known about science education, how and when teachers learn, and education policies that directly and indirectly shape what teachers are able to learn and teach.
The challenge of developing the expertise teachers need to implement the NGSS presents an opportunity to rethink professional learning for science teachers.
Science Teachers' Learning will be a valuable resource for classrooms, departments, schools, districts, and professional organizations as they move to new ways to teach science.
Contents
Preface
Summary
1 Introduction
2 A New Vision of Science Teaching and Learning
3 The Current Status of Science Instruction
4 The K-12 Science Teaching Workforce
5 Science Teachers' Learning Needs
6 Professional Development Programs
7 Teacher Learning in Schools and Classrooms
8 Creating a Supportive Context for Teacher Learning
9 Conclusions, Recommendations, and Directions for Research
Appendix
true PDF with TOC BookMarkLinks