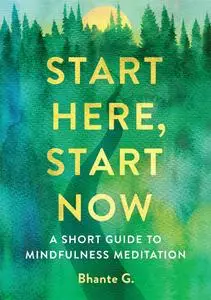 Start Here, Start Now: A Short Guide to Mindfulness Meditation by Bhante Gunaratana
English | November 5th, 2019 | ISBN: 1614296278 | 168 pages | EPUB | 3.85 MB
A new book distilling Wisdom's definitive masterpiece on mindfulness and all-time bestseller, Mindfulness in Plain English, down to a pocket-sized guide with everything you need to get started practicing mindfulness right now.
In a clear, friendly voice, this concise collection of beloved and renowned meditation master Bhante G's bestselling instructions will teach you everything you need to know to start—and maintain!—your mindfulness meditation practice.
The book includes practical advice on
• What to do with the body and mind in meditation;
• What to do when the mind wanders and how to work with distraction;
• How to deal with physical discomfort in meditation;
• How to overcome drowsiness, boredom, and inability to concentrate;
• How to work with fear and agitation, judgments, and self-criticism;
• How to avoid trying too hard, expecting too much, or getting discouraged;
• 11 common misconceptions about meditation;
• 10 tips for effective practice;
• and how to get the most out of your practice.
Enjoy
My Blog
. No any convert or low quality!