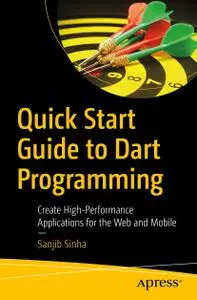 Quick Start Guide to Dart Programming: Create High-Performance Applications for the Web and Mobile by Sanjib Sinha
English | December 28th, 2019 | ISBN: 1484255615 | 218 pages | EPUB | 2.43 MB
Get started with Dart and learn to program with this language suitable for high-performing, modern applications. You'll gain the basics and be ready to move to the next level: web and mobile apps. While you won't learn the specifics of programming web and mobile apps, you will have the foundation to take your Dart skills in that direction.