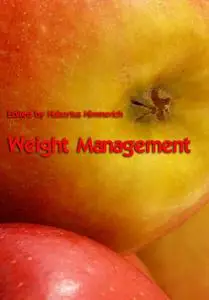 "Weight Management" ed. by Hubertus Himmerich
ITExLi | 2020 | ISBN: 1839625430 9781839625435 1839625422 9781839625428 1839625449 9781839625442 | 297 pages | PDF | 11 MB
This book explains how body weight influences and is influenced by the brain, hormones and immune system, diet, physical activity, posture and gait, and the social environment. Ideas on how to influence and manage body weight including anti-obesity medical devices, diet counselling, artificial sweeteners, prebiotics and probiotics, proanthocyanidins, bariatric surgery, microbiota transplantation, warming, physical exercise, music and psychological therapy are discussed.
Weight management is a multi- and cross-disciplinary challenge. This book covers many etiological and diagnostic aspects of weight-related disorders and their treatment.
This book elucidates the health consequences of significantly low or pathologically increased body weight.
Contents
1.Risk and Maintenance Factors for Eating Disorders: An Exploration of Multivariate Models on Clinical and Non-Clinical Populations
2.Weight Management: Inflammation
3.Orexin and Psychoneurobiology: A Hidden Treasure
4.Anorexia Nervosa
5.Diagnostic Methods in Childhood Obesity
6.Obesity: A Risk Factor for Infection after Surgery
7.Calcium Dyshomeostasis in Neuropathy Diabetes
8.Hyponatremia and Psychiatric Diseases
9.Effect of Foot Morphology and Anthropometry on Bipedal Postural Balance
10.Discretion or Disorder? The Impact of Weight Management Issues on the Diagnosis and Treatment of Disordered Eating and Clinical Eating Disorders
11.Warming in Anorexia Nervosa: A Review
12.A Software-Assisted Qualitative Study on the Use of Music in People with Anorexia Nervosa
13.Evidence-Based and Novel Psychological Therapies for People with Anorexia Nervosa
14.Anti-Obesity Medical Devices
15.Gut Microbiome in Obesity Management
16.Beneficial Effects of Proanthocyanidins on Intestinal Permeability and Its Relationship with Inflammation
17.Artificial Sweeteners
18.Long-Term Weight Loss Maintenance
1st true PDF with TOC BookMarkLinks