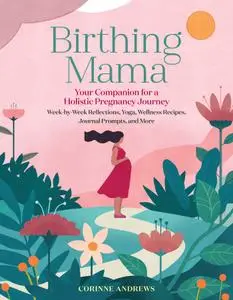 Birthing Mama: Your Companion for a Holistic Pregnancy Journey with Week-by-Week Reflections, Yoga, Wellness Recipes, Journal Prompts, and More by Corinne Andrews
English | September 14th, 2021 | ISBN: 1635863120 | 256 pages | True EPUB | 9.91 MB
Birthing Mama offers a holistic approach to the transformative experience of pregnancy. Author Corinne Andrews, a yoga teacher since 2003 and creator of Birthing Mama® Prenatal Yoga and Wellness, guides women through each week of the nine-month journey, integrating body, mind, and spirit through reflection, yoga postures and breath practices, self-care activities, and creative projects. Whether expectant mothers are setting up a Pregnancy Altar to focus their hopes and dreams for the baby-to-be, writing a Pregnancy Affirmation Statement, blending an herbal tea formula, or breathing into mountain pose for strength and healing, they will find a blend of self-nourishment and self-discovery, contemplation, and celebration through Andrews's gentle, empowering style.